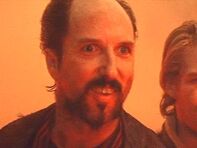 Stubbs is a Scavenger captain and the main antagonist in the 1985 science fiction film, Enemy Mine. He is the brother of Johnny. He and his crew returned to the planet Fyrine IV, in search of minerals and ore deposits. Davidge discovers this and knows that they have little regard for Drac life, so he remains on guard to keep Zammis from getting captured or killed should they run into any of the miners. However, Zammis does not realize the danger and goes off to get a closer look at the Scavenger ship. He is quickly discovered by Stubbs and Johnny. Davidge, who has been following, attacks the brothers in a bid to save Zammis, but is violently gunned down. His brother was killed by Davidge, and Stubbs gets three scars on his face by Zammis.
Later on in the climax of the movie, Davidge manages to find and infiltrate Stubbs' ship. After he reunite with Zammis, Stubbs and his crew found him, and towards the end of the battle, Stubbs was defeated when a Drac shoots an arrow on his back, and dies.
Ad blocker interference detected!
Wikia is a free-to-use site that makes money from advertising. We have a modified experience for viewers using ad blockers

Wikia is not accessible if you've made further modifications. Remove the custom ad blocker rule(s) and the page will load as expected.