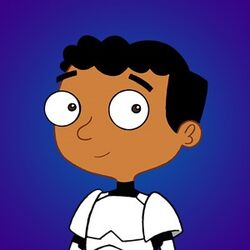 Stormtrooper Baljeet was a (former) supporting antagonist in the Phineas & Ferb Star Wars Special. He, along with Candace, and Buford are a team of low-ranked troopers that seek to earn the respect of the Galactic Empire by finding the secrets of the Death Star.
History
Just like Stormtroopers Candace and Buford, Baljeet joined the Empire to assist in busting Phineas and Ferb, who are working for the Rebellion. However, he admits that he joined the Empire by mistake and actually wanted to go to physics camp instead.
He is also upset of the fact that their commander is forcing to do errands (such as buying socks for Darth Vader) instead of doing their actual job as Stormtroopers. Eventually, Baljeet defects from the Empire along with Candace and Buford after realizing that the Death Star has destroyed the planet Alderaan.
They would escape along with Phineas and Ferb before the Death Star was destroyed and joined in the Rebel celebration of their victory against the Empire.
Trivia
Stormtrooper Baljeet is one of the first villainous versions of Baljeet.