Steven Obanno is a major antagonist in the James Bond film Casino Royale.
He is portrayed by Isaach De Bankolé.
Biography
Obanno is a high ranking member of the Lord's Resistance Army. He also has ties to Quantum represented by the mysterious Mr. White. Obanno banks a considerable sum ($101,206,000) with another of White's associates, Le Chiffre.
Le Chiffre ends up losing Obanno's money when one of his stock shorting schemes fails due to Bond's intervention. Without notifying Obanno or Mr. White, Le Chiffre arranges a high-stakes poker tournament at Casino Royale in Montenegro to recoup the loss.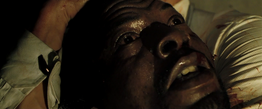 When Obanno learns of the loss of his money, he and his bodyguard travel to Montenegro, break into Le Chiffre's hotel suite and ambush him and his mistress Valenka, threatening to cut off one of her arms with a machete. Le Chiffre, however, is not moved by the threat and implores Obanno to give him one day to win the tournament and recoup the loss. Obanno grants this and leaves the suite, but not before telling Valenka to find herself a new boyfriend. In the hall, Obanno and his bodyguard notice Bond and Vesper Lynd lurking in the vicinity. When the bodyguard sees the hearing device in Bond's ear, he moves to attack Bond, who throws him over a stairwell to his death. Obanno then attacks Bond with his machete. He and Bond then engage in a frenzied fight in the stairwell. As the fight ends at the bottom of the stairwell, Bond gains the upper hand and throttles Obanno to death. Mathis then disposes of their bodies by putting them in the car trunk belonging to Leo, one of Le Chiffre's henchmen, framing him for their murders.