Steven Chapman
is an insane grocery store manager and a boss fight in the video game
Dead Rising
- he has an intense hatred
of vandals and has even constructed a deadly modified cart by which to dispose of anyone that gets in his path: he also has a shotgun for when people get out of the range of his cart. Due to insanity Steven judges *everyone* to be vandals, screaming wildly before attacking - fuelled by homicidal rage he can be a difficult opponent if one doesn't have a good strategy. If you somehow manage to beat Steve he realizes that due to his insanity no customers were coming, and slowly calmed down.
He died after wishing Frank a nice day and declaring "Clean up! Register six!"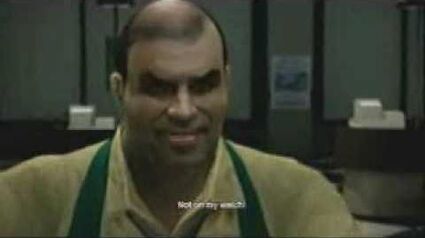 Ad blocker interference detected!
Wikia is a free-to-use site that makes money from advertising. We have a modified experience for viewers using ad blockers

Wikia is not accessible if you've made further modifications. Remove the custom ad blocker rule(s) and the page will load as expected.