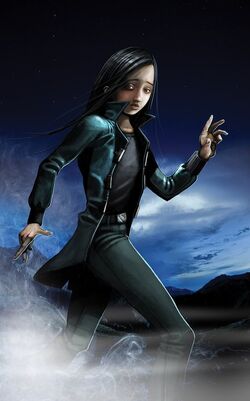 Stephaine Edgley's Reflection is a sentient entity created by Valkyrie/Darquesse with Skulduggery's aid. But then she starts to show signs of rebellion, and dubs herself the true Stephaine at the end of Kingdom of the Wicked and plans to use the Scepter of the Ancients to kill Skulduggery and Valkyrie to stop them from taking her away from Valkyrie's family.
Biography
She tries to kill Valkyrie during Last Stand of Dead Men but fails. After hearing that Valkyrie had become Darquesse forever she joins Skulduggery to fight the Warlocks to keep Valkyrie's family safe and joins him again to stop Darquesse for the same reason. She develops a romantic relationship with Valkyrie's ex boyfriend called Fletcher Renn. Darquesse kills her during The Dying of The Light.
Ad blocker interference detected!
Wikia is a free-to-use site that makes money from advertising. We have a modified experience for viewers using ad blockers

Wikia is not accessible if you've made further modifications. Remove the custom ad blocker rule(s) and the page will load as expected.