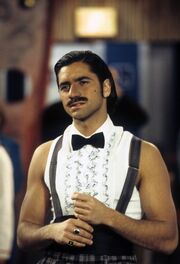 Stavros Katsoplis is the cousin of Jesse Katsoplis and the main antagonist of the episode "Kising Cousins" of the hit TV series Full House.
He was portrayed by John Stamos the same person who played Jesse.
When they were younger, Jesse stayed at his house for a summer, and he treated Jesse like a brother. However when Jessie sees him again, Stavros is a con man.
Biography
After Jesse's grandfather died, he went to Greece for the funeral, where he is reunited with Stavros. He brings him back to America to meet his family. At first they are welcome to have him, but then regret it. Stavros gets Danny a parking ticket, hustles twenty dollars out of Joey in a game of cards, smokes a cigar in the house, orders a pizza and pretends he has no money (He just got twenty dollars from Joey), and tries to check Becky out. The family complains to Jesse about Stavros, but he refuses to believe this. Overhearing this Stavros makes it look like he is leaving, revealing that there is a flood in Greece and he get to back. However Jesse suggest they have a fundraiser, with a Greek dance, in orde to  However Stephaine finds a plane ticket fall out of Stavros's pocket going to Disney World. In order to prove the truth to Jesse, Becky pretends to interested in Stavros wants to run away with him and Stavros reveals his plans to her, however he reveals it to a hidden mircophone in the floweres, and Jesse hears him. Jesse realizes Stavros real intentions and throws him out of the house.