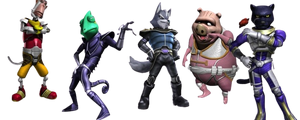 Star Wolf
is a mercenary team that rivals the Star Fox team. They have Appeared in nearly every Star Fox game since their debut in
Star Fox 64
. Originally appearing as hired by
Andross
to defeat team Star Fox, they continue to rival the Star Fox team and have on occasion provided assistance to destroy mutual enemies.
Members
Trivia
The Star Wolf team were originally going to debut in the unreleased SNES game, Star Fox 2.
The Star Wolf team did not appear in the original Star Fox and Star Fox Adventures.
Ad blocker interference detected!
Wikia is a free-to-use site that makes money from advertising. We have a modified experience for viewers using ad blockers

Wikia is not accessible if you've made further modifications. Remove the custom ad blocker rule(s) and the page will load as expected.