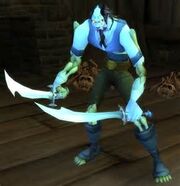 Stalvan Mistmantle is a minor villain in World of Warcraft. He is an undead found in Duskwood.
He was previously a teacher and personal tutor in the schoolhouse in Moonbrook, Westfall. He later fell in love with one of his students, a young woman named Tilloa. When Tilloa refused Stalvan's approaches, he butchered Tilloa and (and her groom-to-be) with an axe, and it is alluded that he possibly killed her entire family as well, in what villagers claim was "quite a massacre". He then carefully hid the bodies and retreated back to his home north-east of Darkshire, and remained there until the darkness crept into Duskwood and consumed him. He now resides in Manor Mistmantle, lonely and mad, hungering for more revenge on any person who dares come near. Through unknown means, perhaps explained by sheer will to live and kill, Stalvan has become an undead revenant.
It is revealed during the events of Cataclysm that he has a brother named Tobias who lived in Gilneas and was affected by the Worgen Curse.
Ad blocker interference detected!
Wikia is a free-to-use site that makes money from advertising. We have a modified experience for viewers using ad blockers

Wikia is not accessible if you've made further modifications. Remove the custom ad blocker rule(s) and the page will load as expected.