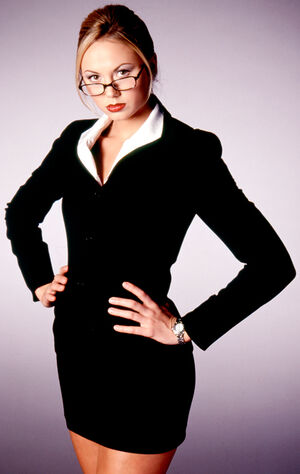 Stacy Keibler is a former wrestler and manager who competed in WCW and WWE, where she portrayed a villainess in both companies.
Stacy's greatest asset was her 41.5 inch legs. She would dress in very short skirts to show them off and use them to her advantage, whether it was by distracting other wrestlers to help the men she managed win their matches, or as weapons when she herself competed in matches. She was a very seductive and bitchy villainess and also a bit sadistic, as she often enjoyed seeing other people get hurt.
After a spell in WCW as Ms. Hancock, a seductive, leggy businesswoman, Stacy joined WWE in June 2001 as a member of the Alliance, a group who planned on taking over WWE. She teamed up with the evil Torrie Wilson, a fellow Alliance member, and together they targeted the good girls of the WWE. This included a 3 on 1 backstage assault on Lita, where the evil Alliance girls attempted to injure Lita's knee. A few months later she began feuding with Torrie, who had decided to defect to the WWE, she also became the valet for the tag team of the Dudley Boyz, and was nicknamed the Duchess of Dudleyville.
During her fued with Torrie she ordered the Dudley Boyz to drive Torrie through a table and took great pleasure in seeing her get injured, pointing and laughing at her. She also enjoyed seeing other wrestlers, such as Spike, get put through tables by the Dudley Boyz. Stacy and Torrie would eventually face off at No Mercy 2001 in a lingerie match, where Torrie got some revenge by defeating the evil Stacy.
In April 2002 Stacy would become Vince McMahon's personal assistant after she seductively applied for the role. During this time she lied about the young rookie Randy Orton forcing himself on her, causing him to be put in a match as punishment. She also watched with pleasure as Triple H was bloodied in a 6 on 1 beatdown.
In August 2002 she moved to RAW and sided with Test, she was given the role of special referee for one of his matches and abused her power to help him win.
Gallery