Stacy
is a student at Pacific Coast Academy and an antagonist in Zoey 101. When Zoey Brooks came up a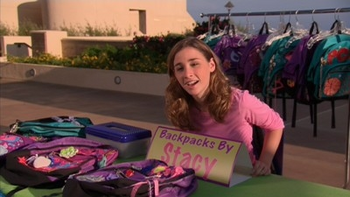 backpack, she noticed Zoey's backpack and inspected it. Stacy quickly became Zoey's nemesis when she stole Zoey's backpack idea. Some school officials invested into Stacy's backpack. Zoey introduce a new backpack with a built-in MP3 player, influencing people to invest in her backpack and defeating Stacy. Stacy was later seen riding her damaged bike.
Ad blocker interference detected!
Wikia is a free-to-use site that makes money from advertising. We have a modified experience for viewers using ad blockers

Wikia is not accessible if you've made further modifications. Remove the custom ad blocker rule(s) and the page will load as expected.