Ad blocker interference detected!
Wikia is a free-to-use site that makes money from advertising. We have a modified experience for viewers using ad blockers

Wikia is not accessible if you've made further modifications. Remove the custom ad blocker rule(s) and the page will load as expected.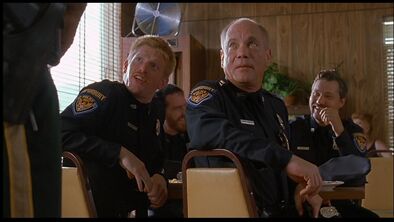 The Spurbury Police, aka the "local cops" are the rivals of the highway officers in the 2001 comedy film Super Troopers. Their goal is to steal cases from the highway cops and have their station shut down so that they can have a bigger budget. The highway cops discover a drug-smuggling ring and hope to save their station by busting it open, but the locals are one step ahead of them and take credit for the drug bust themselves.
Towards the end of the film, the highway cops discover that the locals are actually running protection for the drug dealers. They manage to defeat the local cops and have them imprisoned, and although their station is still shut down, they replace the corrupt locals as the Spurbury police force.