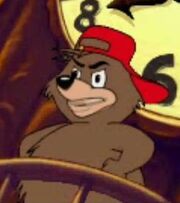 Spike is a porcupine. He is known for his devious personality, and wears a red baseball cap that is usually backwards and a pair of red and white sneakers. In Reader Rabbits Kindergarten, he takes an item from all the characters and the song he sings is Spike's Song.
Trivia
Spike's voice actor in the games, Roger L. Jackson, is the same actor who voiced Ghostface in Scream films.
Ad blocker interference detected!
Wikia is a free-to-use site that makes money from advertising. We have a modified experience for viewers using ad blockers

Wikia is not accessible if you've made further modifications. Remove the custom ad blocker rule(s) and the page will load as expected.