Snowball
is the main antagonist in the show
Pinky and The Brain
. He acted as
Brain
's rival.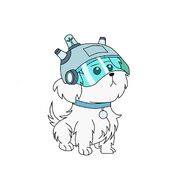 Role
Snowball is a hamster who has been genetically modified and became a supergenius, just like The Brain himself. He schemed to conquer the world, but unlike The Brain, who has good intentions, Snowball is outright evil and wishes to make the world suffer under his rule. Because of this, The Brain considered Snowball as an enemy and sought to stop his plans by any means necessary.
Appearance
Despite his name, he is only very partially white, the rest of him being orange. He displays the same oversized forehead and frowning expression The Brain usually dons.
Ad blocker interference detected!
Wikia is a free-to-use site that makes money from advertising. We have a modified experience for viewers using ad blockers

Wikia is not accessible if you've made further modifications. Remove the custom ad blocker rule(s) and the page will load as expected.