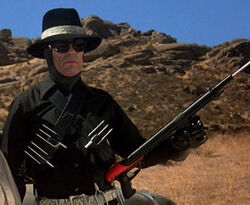 Snake Walker is one of the villains of the 1979 Muppet movie, The Muppet Movie. He was played by Scott Walker.
A professional frog killer hired by Doc Hopper and sinister figure clad in black, with dark goggles and boots, Walker has the presence of a professional assassin. However, he ultimately fails in his faceoff with Kermit the Frog, foiled by the intervention of an enlarged Animal.
Muppet Villains

Muppet Films
Doc Hopper | Snake Walker | Nicky Holiday | Marla, Carla & Darla | Marley & Marley | Long John Silver | Pirates (Polly Lobster, Mad Monty, Clueless Morgan, One-Eyed Jack, Black Dog, Angel Marie, Blind Pew, Calico, Jacques Roach & Sweetums) | Captain Flint | K. Edgar Singer | Hugo Krassman | Mary | Rachel Bitterman | Wicked Witch of the East | Wicked Witch of the West | Tex Richman | Uncle Deadly | Moopets | Constantine | Dominic Badguy

Independent Films
SkekSès (SkekSo, SkekZok, SkekUng, SkekSil, SkekTek, SkekAyuk, SkekNa, SkekShod, SkekOk & SkekEkt) | Jareth | Goblins | Huxley | Bill the Bug | Pesties
Ad blocker interference detected!
Wikia is a free-to-use site that makes money from advertising. We have a modified experience for viewers using ad blockers

Wikia is not accessible if you've made further modifications. Remove the custom ad blocker rule(s) and the page will load as expected.