Smitty is a minor villain featured in Red Dead Revolver.
Interactions
Smitty is one of the bandits that attacks the Harlow's farm in Broken Creek. He is killed by Red Harlow during the attack. Then he can be seen in the mission "Bounty Hunter", he will be killed by Red again. Smitty is again seen in mission "Rogue Valley" where he is one of Bad Bessie's henchman. He is last seen in mission "Bar Fight" where he is a brawler and Dan and Sam's henchman.
Showdown Mode
After successfully completing the mission "Range War" on Bounty Hunter Mode, Smitty is unlocked as a playable character in Showdown Mode.
Quotes
In combat with Red
"Put the gun down, kid!"
"I'll get you boy!"'
"Hey look here!"'
"The kid's down by the river, go get him!"
Dying
"See you in Hell..."
"You son of a bi-ouhh..."
In fist brawl
"Welcome to Texas!"
"Who's there another unwelcome stranger!?"
"Die!"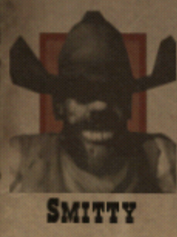 Ad blocker interference detected!
Wikia is a free-to-use site that makes money from advertising. We have a modified experience for viewers using ad blockers

Wikia is not accessible if you've made further modifications. Remove the custom ad blocker rule(s) and the page will load as expected.