Slimy Sammy
is the main antagonist in a Horrid Henry episode called 'Perfect Peter's Pen Pal' and was Peter's best friend in the whole world until Sammy stole his toys and framed Henry. When confronted he told them that he has lots of friends all around the world all of who had something he wanted, which stole from them and left someone else to take the blame. When he tries to escape, Henry's mom was in the way of the door and Sammy gets caught.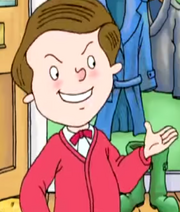 Ad blocker interference detected!
Wikia is a free-to-use site that makes money from advertising. We have a modified experience for viewers using ad blockers

Wikia is not accessible if you've made further modifications. Remove the custom ad blocker rule(s) and the page will load as expected.