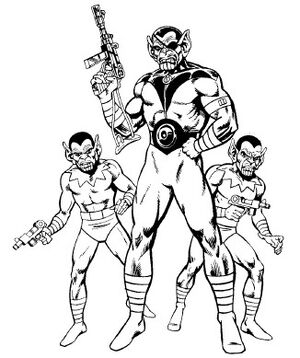 The Skrulls are a race of evil aliens in the Marvel universe. They are green-skinned, with pointed ears and grooved chins. They are infamous for their ability to shapeshift into any person or creature. With this ability alone they have caused innumerable amounts of chaos and manipulation in the Marvel universe.
The Skrulls were once a peaceful space-faring race of merchants long ago, until then then they met the Kree, a hostile culture of alien warriors. Everything changed since the unfortunate encounter with the Kree, the Skrulls decided to train themselves to combat against their sworn enemies. But now, violence and conquest are the Skrulls' way of life.
The Skrull Empire is hostile to most other species, especially the Kree. During their age-long battle with the Kree, the Skrulls discovered that Earth was a key point in the galaxy in attacking the Kree's home planet, so they were resolved to take over the earth and destroy its inhabitants. They first saw the Fantastic Four as their main threat, so they tried to dispose of them, but failed. Since then, the Skrulls have waged war on almost every hero in the Marvel universe, even launching a mass invasion by impersonating all of the main superhumans on earth.
In one attempt to get rid of the Fantastic Four the Skrulls created the Super-Skrull by taking each of the FF's DNA and putting it into one of their warriors, Kl'rt.
Gallery
Illuminati Villains

Pride | Skrulls |
Ad blocker interference detected!
Wikia is a free-to-use site that makes money from advertising. We have a modified experience for viewers using ad blockers

Wikia is not accessible if you've made further modifications. Remove the custom ad blocker rule(s) and the page will load as expected.