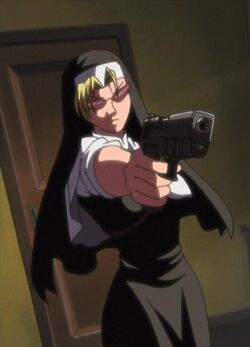 Sister Eda is a woman posing as a nun in the Rip-Off Church, with ties to the underground, since the convent is mainly a smuggling organization.
She is friends with Revy, but this doesn't prevent them from confronting each other, as they share the same hotheaded personality. She has taken a liking to Rock during the "Second Barrage" episodes, and makes fun of Revy by threatening to take Rock for herself.
Eda has blond hair, blue eyes, and wears angular pink sunglasses even with her nun's habit and is often seen either chewing gum or smoking. Before she came to work for the Church, she claimed to be from Langley, Virginia. It must be noted that Langley, Virginia, is a metonym for the CIA as its headquarters is located there. Later on, it is revealed that Eda is an operative for the CIA and is being hosted by the Church of Violence in return for monetary payments. She is given an assignment by the CIA to track down Grey Fox, the same foe Roberta is hunting as they are a threat to her CIA division. She provides Mr. Chang with much of the intelligence about Grey Fox, but warns him about his actions.
Eda's preferred firearm is a Glock 17L (as seen in manga chapter 41), which she wields proficiently, despite Revy's claims that she is a "second-rate gunman".
Eda is presumably accompanying Roberta to chase the Grey Fox.