Ad blocker interference detected!
Wikia is a free-to-use site that makes money from advertising. We have a modified experience for viewers using ad blockers

Wikia is not accessible if you've made further modifications. Remove the custom ad blocker rule(s) and the page will load as expected.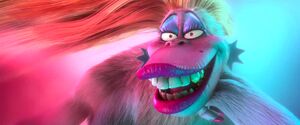 The
Siren Kong
is a deceptive female Gigantopithecus to convince
Captain Gutt
to date with her. This is disguised by a
Siren
. Once he got close to her, she turned into an true form of a 
Siren
and grabbed him onto her lovely clam and used Sirens against him to eat him alive.
Appearance
The Gigantopithecus has female blonde hair with lips, eyelashes, lavender fur and teeth. She appears to be lovely with a grape being held. The ears are zigzag until Captain Gutt gets close enough. The eye irises get even smaller and smaller as he gets closer and then transforms into a true form of the Sirens.
Gallery