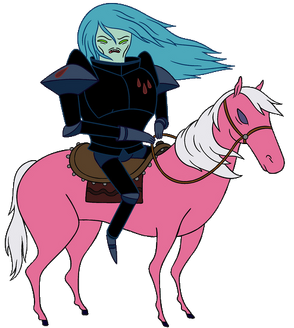 Sir Slicer is a villain from Adventure Time who appears in "Blood Under the Skin".
In the episode, Sir Slicer antagonizes Finn, telling him that he is weak because he doesn't have full body armor. Sir Slicer rides a pink horse with a white mane and tail. His appearance is always preceded by a group of flying crows against his silhouette, with a rushing background and leaves blowing in the wind. He follows Finn and mocks him after the Swamp of Embarrassment for having "crimson cheeks." Sir Slicer also hires a lute player to make fun of Finn after the Red-faced Monster tries to get him to nurse. He last appears after Jake gets the Armor of Zeldron, still making fun of Finn and Jake despite their success. However, in the end his armor proves too heavy for him to move when dismounted, and he finds himself on the receiving end of embarrassment and laughter.
Ad blocker interference detected!
Wikia is a free-to-use site that makes money from advertising. We have a modified experience for viewers using ad blockers

Wikia is not accessible if you've made further modifications. Remove the custom ad blocker rule(s) and the page will load as expected.