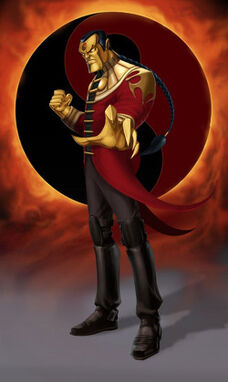 Sin Tzu
is the main antagonist in the video game;
Batman: Rise of Sin Tzu
.
History
Past History
Sin Tzu was born in Southeast Asia. He was abandoned as a young child, but was adopted by an Indian Thuggee Tribe.
Gameplay
When Sin Tzu heard tales of Batman, he decided to formed a plan to defeat him. Sin Tzu allowed himself to be "caught" by Batman and imprisoned in Arkham Asylum, Sin Tzu engineered a massive break-out from Stonegate Penitentiary. This caused chaos thoughout the streets of Gotham City. He planned to use the escapees as member for his new army. At the same time, he took over Arkham Asylum and enlisted 3 of Batman major villains; the Scarecrow, Clayface, and Bane. Batman, Batgirl, Nightwing, and the Tim Drake Robin battled their way into Arkham Asylum. When all four of them reached Sin Tzu, Batman decided to engaged Sin Tzu in single combat. The fight was proven to be one of the most challenging Batman ever faced. Batman was able to both defeat and capture Sin. Before he was taken away, Sin Tzu told Batman that he will be back. However, Sin Tzu has yet returned to challenge Batman
Ad blocker interference detected!
Wikia is a free-to-use site that makes money from advertising. We have a modified experience for viewers using ad blockers

Wikia is not accessible if you've made further modifications. Remove the custom ad blocker rule(s) and the page will load as expected.