Ad blocker interference detected!
Wikia is a free-to-use site that makes money from advertising. We have a modified experience for viewers using ad blockers

Wikia is not accessible if you've made further modifications. Remove the custom ad blocker rule(s) and the page will load as expected.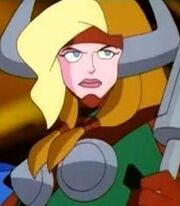 Sig is one of several Valkyran Raiders. It is never elaborated how or when Sig joined the Valkyran Raiders or whether it is something all Valkyrans undergo. Although given even less of a personality than Hilda, Sig is one of Brun's seconds-in-command. She seems more feminine and stylish compared to other Valkyrans, though she doesn't seem to consider herself above doing menial tasks or getting her hands dirty.