Sidney Debris
a.k.a Sid The Squid
,
the Man who killed Batman,
was an incompetent henchman of Rupert Thorne and a small time crook who dreamed of becoming a big shot in
Batman:The Animated Series
.
History
Debris was an incompetent henchman who tries to become a big shot but always fails his crimes. One night, Debris's friend
Eddie G.
had him to become a lookout of a drug deal and gave him a nickname Sid The Squid. In truth, they brought Sidney to distract Batman. The Dark Knight corners and interrogates Debris while the others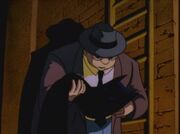 began their drug business. Sidney in a clumsy manner pushes Batman in which looks like he's fighting him. Sidney almost fell but struggled to grab Batman's hand. Batman later fell on to a propane tank which later exploded. Eddie and the other mobsters saw the explosion and were stunned to see Debris did the impossible by killing Batman.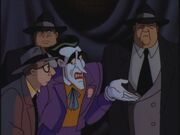 Sidney later earned the title "the man who killed Batman."Eddie and the other mobsters celebrated Sidney's victory over Batman at a bar. For a short time, Sidney liked his title and fame and many criminals said that he's the toughest guy in Gotham. Though, there were some that wanted Sidney's title and challenged Sidney. Although Debris was actually a weak man, he attempted to flee his opponents but it caused a bar fight between his allies and those who challenged. The bar fight was brought to a halt by the police and everyone involved was arrested including Sidney. Debris was later bailed out by Harleen Quinzel in disguise as a lawyer. She later presented Sidney to The Joker. The Joker doesn't believe Sidney killed Batman so they pulled a robbery to prove it. However, Batman didn't show up. The Joker was angry that the honor of killing Batman was stolen by a small time criminal. In response, he locked Sidney into a coffin and had him rolling into a vat of acid.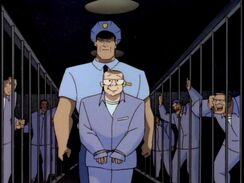 Sidney was saved when the coffin was washed away to shore. He later went to Thorne to help him get out of Gotham City but Thorne thinks that Sidney wants to take over his criminal empire by acting dumb and later tries to kill him. However, Batman who turns out to survive the explosion defeated and stopped Thorne. Batman revealed to Debris that he pulled away from the explosion at the last second. Sidney realized it was Batman who saved him from The Joker's wrath. Batman grabbed Debris and told him he was an accomplice in the drug deal therefore needs to go to jail. However, he notes a man of Sidney's reputation can make his sentence bearable. While in jail, the inmates of Stonegate cheered him for nearly killing Batman, making a fool out of The Joker, and tricking Thorne. Sidney finally accomplished his goal of becoming a big shot.
Trivia
Sid the Squid was popular with the Warner Bro. writers they made it an alias for Slappy Squirrel.
Sid the Squid was also an alias used by Tony Zucco.
Ad blocker interference detected!
Wikia is a free-to-use site that makes money from advertising. We have a modified experience for viewers using ad blockers

Wikia is not accessible if you've made further modifications. Remove the custom ad blocker rule(s) and the page will load as expected.