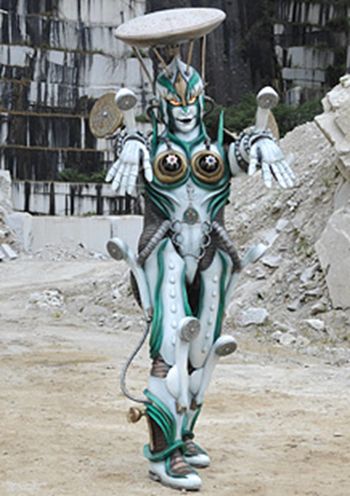 Shower Banki
(38): A shower Savage Water Barbaric Machine Beast who ends her sentences with the word "Shower" in English. Kegalesia gave her special liquids to freeze and melt everything around her. However, the liquid has a unforseen side effect that freezes any male exposed to it, within 30 minutes. Once aware of this, Kegalesia sends Shower Banki to eliminate the male Go-ongers. However, Saki, Miu, and Bearrv managed to outwit and best her. By the time she grows, the male Go-ongers arrive and GunBir-Oh Jetras and Seiku-Oh Gunpherd destroys her.
Notes
Height: 210 cm to 52.5 m
Weight: 224 kg to 560 t
Ad blocker interference detected!
Wikia is a free-to-use site that makes money from advertising. We have a modified experience for viewers using ad blockers

Wikia is not accessible if you've made further modifications. Remove the custom ad blocker rule(s) and the page will load as expected.