Ad blocker interference detected!
Wikia is a free-to-use site that makes money from advertising. We have a modified experience for viewers using ad blockers

Wikia is not accessible if you've made further modifications. Remove the custom ad blocker rule(s) and the page will load as expected.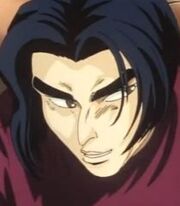 Shingo Shoji is an antagonist from the Initial D manga and anime series.
Personality
Shingo Shoji drives a Honda Civic (EG6), which he often uses dangerously in order to win.  He's a driver who is willing to hurt other drivers to win and one of the few "villainous" characters in the series, though he spends much of the latter half of the series as having a grudging respect for Takumi, the series' lead. 
Story
Wanting to prove himself to another rival who was defeated by Takumi Fujiwara, Shingo Shoji challenged Takumi to a race by threatening Takumi's friend Itsuki while he was on a date. Takumi accepted Shingo's challenge to a gumtape death match, where the right hand is taped to the wheel, severely limiting both drivers abilities. Though Shingo had the initial advantage, Takumi was soon able to come up with a strategy to overcome the weakness. When Takumi passed Shingo, Shingo attempted to cause an accident but underestimated Takumi's driving ability and crashed into a guard rail, ruining his car and forcing him to admit defeat. Later on in the series, Shingo acted more as a background character.