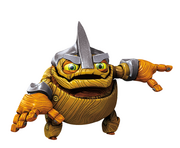 Shield Shredder
is
Evilikin
 and one of the trappable villains in
Skylanders: Trap Team
. A Life element trap is required to trap him.
Shield Shredder appears in the Mystic Mill level, the Doom Raiders were taken over its the build the Evilikin Soldiers. Shield Shredder is one Evilikin Soldier, the Skylanders met its one Mystic Mill's office, and for is shield which can rotate and rip out.
Anyway the Skylanders defeat him and lock him in a Life element trap. And then they save the Mystic Mill defeating Krankenstein too, and then the Doom Raiders needed the repeat the enchanted wood the new Evilikin Soldiers, and not such not anywhere else.
Gallery