Sheriff Cobb is one of the main villains of the 1985 Western, Silverado.
He was played by Brian Dennehy.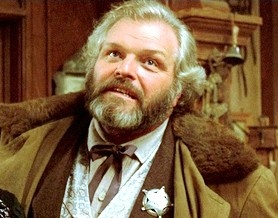 An old friend of Paden, one of the heroes, and mean sheriff of the town of Silverado working for Ethan McKendrick. Cobb arranges for Paden to become the new manager of Stella's saloon and brutally kills the former manager. The saloon owner, Stella, honest and hates Sheriff Cobb, welcomes and likes Paden. Later Sheriff Cobb warns Paden not to get involved with his friend's crusade for justice and to do nothing.
When McKendrick has Cobb and his men murder Ezra, torch and destroy the land office, and kidnap Augie, Emmett's young nephew, he meets Mal and tells him to not to shoot him and he knows Mal killed a deputy of his self-defense. Cobb gives Mal, while he's being beaten within an inch of his life by Cobb's men, a choice to either recieve trial and then die by hanging or ride out of town alive if he tells Cobb where his friends are. Paden later tells Cobb that he's got nothing he needs and Cobb says that he wasn't worried about his future and that the only reason he replaced Paden as the manager of her saloon so for Stella and her future and that if Paden gets in Cobb's way he'll hurt Stella. Stella later tells Paden she knows all about Cobb's corruption and that he can't hurt her if he's dead.
Towards the end of the movie, Paden faces off against Sheriff Cobb, in the street of Silverado, in a gun duel. Paden being the faster draw, shoots and kills Cobb. At the end of the movie, Paden replaces Cobb as sheriff.