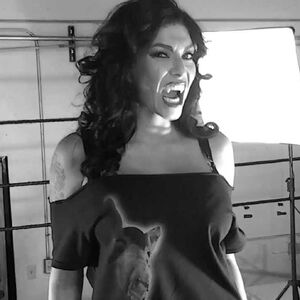 Shelly Martinez
is a professional wrestler and valet best known for her stints in WWE and TNA. In WWE, Shelly portrayed 
Ariel
, a tarot card reader who later became a villainess with a vampire gimmick.
Shelly debuted in WWE's ECW brand on June 20, 2006 as Ariel, a mysterious tarot card reader. After doing a session with Kevin Thorn, Ariel aligned with Thorn, becoming a villainous vampiress and serving as Thorn's valet. In her role, Ariel feuded with Divas such as Kelly Kelly, Trinity, and even defeated ECW original Francine in a singles match. In 2007, Ariel became the lone female member of the New Breed faction, which consisted of Thorn, Marcus CorVon, Matt Striker, and Elijah Burke. After her release from WWE in May 2007, Shelly appeared at TNA's Bound For Glory months later and participated in the Gauntlet Battle Royal to crown the first ever Knockouts Champion. She later became a regular TNA Knockout known as Salinas, the babyface valet for the Latin American Xchange, a role she played throughout 2008.
Shelly debuted for Championship Wrestling From Hollywood in 2010, and later served as the babyface valet for Blake "30th Century" Fox, before he was revealed as Todd Chandler during his feud with Ricky Mandel. On August 3, 2013, Shelly appeared during Chandler's match against Mandel and threw in the towel, giving Mandel the victory. After the match ended, Shelly turned into a villainess and delivered a low blow to Chandler, dumping him in the process for Mandel. In the weeks that followed, the evil Shelly served as a valet for Mandel, while also continuing to antagonize Chandler. She even teamed with Mandel in a losing effort to Chandler in a handicap match. 
Personality
Shelly has been mostly portrayed as an arrogant villainess as well as a seductive femme fatale, even in her stint in WWE as the vampiric Ariel.
Gallery