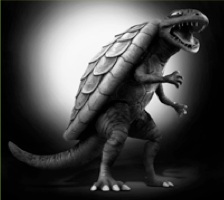 Shelley (also known as the Turtle Monster) is one of the monster pets and the secondary antagonist of Tim Burton's 2012 film Frankenweenie.
Monster Turtle is actually Toshiaki's dead turtle, Shelley. When he digs it up to use Victor Frankenstein's reanimation secrets on it, the experiment goes awry and the resurrected turtle grows to an enormous Godzilla-sized turtle after getting doused with Miracle Gro whilst being struck by the lightning.
The Turtle Monster then begins to rampage around the town and then the dutch day festival stomping and crashing cars, destroying everything in sight. Toshiaki needs Victor's help to resolve his problems, so Victor and Toshiaki and Bob went to the dutch day festival to stop The Turtle Monster, Toshiaki went to the ferris wheel to take a video on his monster pet but the beast approached Toshiaki and began to attack him, however victor managed to stop the beast after throwing a live cable into the puddle Shelley was standing in, thus elecrocuting the monster and reverting it back into the dead turtle it once was.
Trivia
Shelley's name appears to be a reference to Mary Shelley, author of Frankenstein.