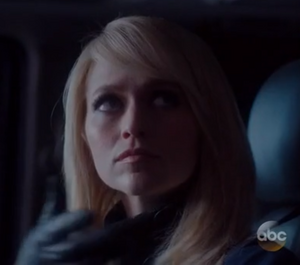 Shelby Wyatt is a villainess from the ABC series Quantico.
She was portrayed by Johanna Braddy.
Shelby is one of the recruits at Quantico, and during her training, she forms a friendship with main protagonist Alex Parrish. However, nine months later, after Alex is set up for the bombing at Grand Central Station, Shelby served as a villainous adversary against Alex, as she pursued her with the belief that she's involved. Shelby's backstory included that she was orphaned at age 16 due to her parents being killed in the 9/11 attacks, but she later learns that her parents are, in fact, alive, and (as revealed in the Season One episode, "Care") they had been on the run due to the fact that they had sold weapons to the Taliban.
In the final scenes of "Care," Shelby turned villainous when she is shown as the driver of the van that the unknown terrorist(s) ordered Alex to give her phone to, and drove away with Will Olsen and Simon Asher inside. In the episode, "Fast," Alex finds Shelby at the Bureau and later interrogates her, with Miranda's permission. During the interrogation, the evil Shelby berated Alex, while also sending a message to Alex in Morse code stating that she is on her side. After later meeting at the stairway, Shelby worked with Alex to search for the terrorist, officially redeeming Shelby.
Gallery