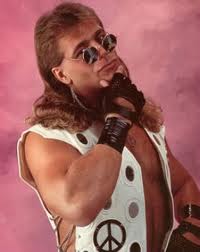 Quite possibly the most controversial and popular superstar in WWE history, from his days as one half of the tag team "The Rockers" to the infamous interview in the Barbershop with Brutus the Barber Beefcake which led to their split, to a solo career that brought him to new heights, to forming a faction that revolutionized sports entertainment, and waging war on WCW. Due to his natural ability to never be outperformed by anyone he became known as Mr. Wrestlemania. He is known by many names but one name that outshines them all is his go-to name The Heartbreak Kid.
Personality
HBK is on this page for countless reasons, though he has very strong morals and will never hit a woman. In the 1990's he was brash, cocky, arrogant and sometimes crude, particularly when he was in Degeneration-X. He was a womanizer, and would sometimes cheat in his matches to win. His personality changed when he returned after four years in 2002, due to his conversion to Christianity in real life, and from then on rarely did anything villainous. On occasion though he was still known to betray his tag team partners just as he did to Marty Jannetty years earlier.
Villainous acts
Hit Sweet Chin Music on Marty Jannetty and threw him through a glass window, officially breaking up The Rockers.
Developed a narcissistic and vain persona with Sensational Sherri as his manager.
Applied the Sharpshooter on Bret Hart at Survivor Series 1997 in Montreal, winning the WWE Championship despite that Bret Hart never submitted, an event infamously forever known as "The Montreal Screwjob".
Co-Founder of D-Generation X with Triple H
Hit Sweet Chin Music on Hulk Hogan in 2005 leading to their feud at SummerSlam of that year.
Hit Sweet Chin Music on Triple H at the start of of a Triple Threat Match for the WWE Championship involving John Cena which caught Cena off guard as well.
Delivering Sweet Chin Music on Daniel Bryan as special guest referee at Hell in a Cell 2013 (PPV), making Randy Orton winning the vacant WWE Championship
Ad blocker interference detected!
Wikia is a free-to-use site that makes money from advertising. We have a modified experience for viewers using ad blockers

Wikia is not accessible if you've made further modifications. Remove the custom ad blocker rule(s) and the page will load as expected.