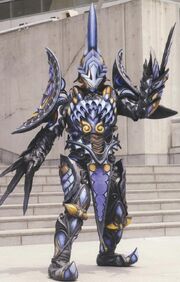 Shark Fangire: The Shark Fangire is recruited by the Bishop to aid Ryo Itoya in attacking Mio Suzuki so she can become the Queen by force, being the one who killed everyone around her. While supporting the Spider Fangire in hunting down Mio, they are forced to fight Kiva before he is shattered by the Emperor Moon Break.
Section heading
Shark Fangire join Wataru along sides a group of Fangires, as their king, in the World of the Rider War. However,actually he join Dai-Shocker's side.
Ad blocker interference detected!
Wikia is a free-to-use site that makes money from advertising. We have a modified experience for viewers using ad blockers

Wikia is not accessible if you've made further modifications. Remove the custom ad blocker rule(s) and the page will load as expected.