Shannon Tweed (Married...With Children)
Talk

0
Share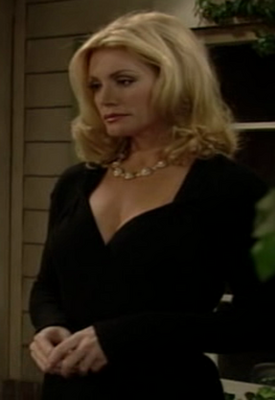 Shannon Tweed appeared as a villainous version of herself on Married...With Children, doing so in Season Ten's "The Two That Got Away."
Al Bundy and Jefferson D'Arcy encounter Shannon Tweed at an exclusive fishing lodge where they had reservations, only to find out that Shannon had taken their places. To make matters worse, Shannon rudely throws them out, but Jefferson manages to get a compromising photo of Shannon naked in a hot tub. As payback, the two planned to sell the photo to the highest bidder, but at that moment, Shannon showed up at Al's door and began seducing him. Al later takes the incriminating photo of Shannon and swallows it whole, but once she learns what Al had just done, Shannon shows her true colors and boldly reveals that she lied to him—saying that, "Despite what everyone thinks, I am a good actress, as you've proven today."
Ad blocker interference detected!
Wikia is a free-to-use site that makes money from advertising. We have a modified experience for viewers using ad blockers

Wikia is not accessible if you've made further modifications. Remove the custom ad blocker rule(s) and the page will load as expected.