| | | |
| --- | --- | --- |
| " | (Scout: The emperor will stop you!) Stop me? He invited me! By building his Wall, he challenged my strength. Well, I'm here to play his game. GO! Tell your Emperor to send his strongest armies! I'm ready. How many men does it take to deliver a message? | " |
| | ~ Shan Yu threatening two imperial scouts. | |
| | | |
| --- | --- | --- |
| " | Now you'll bow to me. | " |
| | ~ Shan Yu to the Emperor. | |
Shan Yu (sometimes spelled Shan-Yu) is the main antagonist of Disney's 36th full-length animated feature film, Mulan.
He is the Chieftain of the Huns and a ruthless warlord who is determined to invade and conquer China. He is the reason Mulan joined the Imperial army in her father's place. He also has the falcon named Hayabusa as his pet, and the Elite Huns as his henchmen. He also uses Hayabusa as a messenger and spy.
In Mulan, he was voiced by the late Miguel Ferrer (who later played Big Boss in Rio 2 and Deathstroke in Teen Titans: The Judas Contract), while in Kingdom Hearts II, he was voiced by Corey Burton in who also played Count Dooku.
Personality
Shan Yu (单于Xiang Yu) is the cruel, heartless, manipulative, and traitorous leader of the Huns who successfully climbs over the Great Wall and invades the land to prove his "superiority" to the Emperor.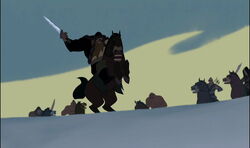 Like his people, Shan Yu is trained in living off the Earth, possessing heightened senses and a
saker falcon
as his pet.
His strength is demonstrated many times during the course of the film, such as easily breaking down a barricaded door or effortlessly slicing through a massive pillar with his sword, making him easily one of the strongest characters in the film (second perhaps only to Chien-Po).
Shan Yu is truly cruel, ruthless, destructive, sanguinary, and cold-hearted, so he kills without mercy, remorse and, on occasion, as a joke; for example, after freeing two captured Chinese scouts to carry a message to the Emperor, he then comments to an archer, "How many men does it take to deliver a message?" (The archer replies "one", nocking an arrow.)
While Shan Yu is clearly rebarbative, unsympathetic, opprobrious, heartless and to his foes, he is proud of his army, as shown at the beginning when he thought it was "perfect" that all of China knew that he and his army were there after the signal fire was lighted, and when he flatly refused to avoid the Imperial troops and instead opt to take them head on, despite knowing that they are the elite of China's armies.
Appearance
Like other characters in the film, Shan Yu has a Mongoloid-Asiatic texture, gray skin, glowing yellow eyes, bared fangs, long black flowing hair, a long mustache, and he wears a ragged robe with multiple animal pelts. He is also the only Hun with yellow eyes and is sometimes seen with a hood.
Mulan
In film's opening scene, Shan Yu scales the Great Wall of China and leading the Huns in an invasion of China, setting the tone for the rest of the film. When one of the Chinese guards of the Great Wall revealed that he lit the torches and that the Emperor will soon know of Shan Yu's presence in an attempt to intimidate him, Shan Yu's only response was to burn one of the Imperial flags on the torch in front of him before giving a satisfied "perfect," revealing that the Emperor receiving the message of Shan Yu and the Huns' invasion was precisely what he had intended to accomplish.
Later on, Shan Yu destroyed yet another village and exposed two spies sent by the Emperor. He ordered them to pass a message to the Emperor telling to send his best men for battle. Before the two were able to leave, he had his head archer murder one.
Later, while waiting for the Emperor's armies, Shan Yu's pet falcon,
Hayabusa
, acquired a doll from a village in the Tung Shao Pass. After close examination of the doll and traces on it by his five main men, Shan Yu deduces that the Imperial Army is waiting for them. Though one of his archers suggested that they simply avoid the soldiers and continue heading towards the Imperial City, Shan Yu insisted on confronting the Imperial army, as the quickest way to the Emperor was through the pass, before adding "And besides...the little girl will be missing her doll. We should return it to her." with a murderous grin.
Ambushing General Li's army, Shan Yu and the Huns fought against the Emperor's best troops, including General Li, and ultimately won the battle, setting the village on fire on the process. The Huns only suffered minimal casualties, leaving hundreds of troops intact. Unfortunately, only the aftermath was seen in the film. No known survivors were discovered by Li Shang's troops. As they headed for the Imperial City, the Hun army noticed them and sneaked up a mountain in the Tung Shao Pass, preparing their fiery arrows. When Mushu accidentally fires a cannon causing their position given away to him and his army, the Huns attacked, casting flaming arrows from the mountains to disintegrate their ammunition.
Shan-Yu then led his entire army to wipe out Li Shang's small battalion. Mulan, however, took control of Li Shang's last cannon, aiming it for a nearby mountain.
This maneuver triggered an avalanche that wipes out almost all of Shan-Yu's army and encases Shan Yu in a thick blanket of snow. At first, it seems like a complete victory, thanks to Mulan. However, it is not so. Following the avalanche and the departure of Li Shang's troops, Haybusa screeched the all-clear and Shan Yu rose from the snow, shaken and infuriated at the loss of his army. A loud yell of anger is all it takes for Mulan to realize that there is still a chance for the Huns; Shan Yu's falcon and five of his best troops had survived the assault. Since the Imperial army are not aware that Shan Yu is alive at this point, Shan Yu and his troops are able to infiltrate Imperial City, though Mulan chooses to pursue them to warn Shang.
While his troops hid within a Chinese lion at the Imperial celebration, Shan Yu lies in wait on top of the roof of the Emperor's palace. At the right moment, Shan Yu's falcon retrieves his sword and his troops sprung into action, locking up the palace and kidnapping the Emperor. As Shan Yu threatens the Emperor to bow to him, Mulan, Li Shang, Yao, Chien-Pao, and Ling infiltrate the palace in an attempt to rescue the Emperor, the latter three being in drag (as a disguise). Mulan, Yao, Chien-Po and Ling defeat Shan Yu's men and his pet falcon is fried by Mushu.
After securing the Emperor, in an attempt to distract Shan Yu from Shang (whom he was about to slaughter) Mulan reveals that it was she who destroyed his army. Pursuing her throughout the palace and onto the roof, Shan Yu's attempts to kill Mulan backfire when Mulan initiates a plan of her own.
| | | |
| --- | --- | --- |
| " | It looks like you're out of ideas. | " |
| | ~ Shan-Yu's last words to Mulan just before his demise. | |
Immobilizing the Hun leader by pinning his cape to the roof with his own sword, Mushu aims a large rocket at him. Releasing the rocket, Mushu, Mulan, and Crik-ee escape from the roof as it hits Shan Yu at great speed and propels him through the air into a munitions tower, resulting in a huge colorful explosion which kills him. Mulan is then awarded Shan Yu's sword for her success of ridding China of the Huns forever.
House of Mouse
Shan Yu appeared as minor guest character in the House of Mouse, he made cameos in several episodes of the series.
Kingdom Hearts II
Shan Yu appears in
Kingdom Hearts II
as one of the first Disney Villains that Sora and company can fight in the game.
He appears in the Land of Dragons, a
Mulan
-based world. The game follows much of the movie's storyline, except for the fact that instead of having an army Of Huns, he could summon an army of Heartless. He traps Sora and Mulan in a cave full of Heartless, while he destroys the Imperial Army's village.
When Sora, Mulan, Donald, and Goofy, along with the Imperial army, appears at the summit, the scene plays like a similar mountain scene in the film. He then makes his way into the Emperor's castle, but is stopped by Sora, Mulan, and the others. He fights them, using dark energy to enhance his abilities and working alongside his attack falcon, Hayabusa, and a swarm of Heartless. He tends to favor the Rapid Thruster Heartless, creating an army of them to attack Sora and friends on the mountain pass (in the movie it was his Hun army that attacked the heroes on the pass).
During the boss battle he will send three Nightwalker Heartless to try and take down the door. This swarm of Heartless is resurrected when Sora fights a mysterious cloaked man that is later revealed as Riku on the same pass. He is ultimately slain by Sora. Shan Yu was not associated with Maleficent or Organization XIII, making his role in the game equivalent to that of Clayton from the first game.
The Kingdom Keepers
Shan Yu also appears as "Shan-Yu" in The Kingdom Keepers, where he challenges Finn Whitman and finding that Finn can turn from human to pure light tries to kill him as well as his friend Charlene.
Gallery
Trivia
Shan Yu is without a doubt one of the most cunning, arrogant, merciless, wicked, and cruel Disney villains to exist.
Shan Yu never underestimated Mulan, even when he found out she was a woman. This was surprising as in those times, women were second-rate.
His death by being blown up was intentional, because the developers wanted to avoid the typical fall to death.
In a deleted scene, it was revealed that he was originally going to have a spiritual connection with Hayabusa.
Disney Villains
Animated Features
Queen Grimhilde | Magic Mirror | Honest John & Gideon | Stromboli | Coachman | Coachman's Minions | Monstro | T-Rex | Chernabog | Ringmaster | Ronno | Man | Tetti-Tatti | Lumpjaw | Willie | Mr. Winkie | Brom Bones | Rustlers | Headless Horseman | Lady Tremaine | Ugly Stepsisters | Lucifer | Queen of Hearts | Card Soldiers | The Walrus & the Carpenter | Captain Hook | Mr. Smee | Neverland Pirates | Maleficent | Diablo the Raven | Maleficent's Goons | Cruella De Vil | Jasper & Horace | Madam Mim | Shere Khan | Kaa | Louie | Bandar Log | Edgar Balthazar | Prince John | Sheriff of Nottingham | Sir Hiss | Captain Crocodile | Rhino Guards | Wolf Arrowmen | Trigger & Nutsy | Heffalumps & Woozles | Madame Medusa | Mr. Snoops | Brutus & Nero | Amos Slade | Chief | Horned King | Arawn | Creeper | Cauldron Born | Horned King's Guards | Gwythaints | Orddu, Orwen & Orgoch | Padraic Ratigan | Fidget | Felicia | Thugs | Bartholomew | Bill Sykes | Roscoe & DeSoto | Ursula | Flotsam & Jetsam | Glut | Percival C. McLeach | Joanna | Gaston Legume | LeFou | Monsieur D'Arque | Gaston's Buddies | Jafar | Iago | Razoul | Gazeem | Oogie Boogie | Lock, Shock & Barrel | Scar | Shenzi, Banzai & Ed | Hyena Clan | John Ratcliffe | Claude Frollo | Brutish & Oafish Guards | Frollo's Soldiers | Hades | Pain & Panic | Cerberus | Hydra | Titans (Lythos, Hydros, Pyros, Stratos & Cyclops) | Nessus | Nemean Lion | Minotaur | Shan Yu | Hayabusa | Elite Hun Soldiers | Cecil Clayton | Sabor | Clayton's Pirates | Jack-in-the-Box | Snooty Flamingos | Firebird | Kron | Bruton | Yzma | Kronk | Lyle Tiberius Rourke | Helga Katrina Sinclair | Rourke's Soldiers | Leviathan | Gantu | John Silver | Scroop | Onus | Hands | Turnbuckle | Longbourne | Fayvoon | Grewnge | Blinko | Krailoni | Hedley | Torrance | Mertock | Verne | Crex | Nathaniel Flint | Flint's Pirates | Alameda Slim | Rico | The Willies | Mr. Wesley | DOR-15 | Mike Yagoobian | Dr. Calico | Dr. Facilier | Lawrence | Facilier's Shadow | Friends on the Other Side | Mother Gothel | Stabbington Brothers | King Candy | Cy-Bugs | Sour Bill | Wynnchel & Duncan | Prince Hans | Duke of Weselton | Duke of Weselton's Bodyguards | Yokai | Mr. Yama | Dawn Bellwether | Doug Ramses | Jeese | Woolter | Ram Thug | Duke Weaselton | Te Kā | Tamatoa | Kakamora

Live-Action Movies
Long John Silver | Captain Nemo | Giant Squid | Pony Sugrue | Prince John (1952) | Barnaby | Peter Thorndyke | The Bookman | King Leonidas | Colonel Heller | Dr. Terminus | The Gogans | Charles Olympus | Bluto | Master Control Program | Sark | Ed Dillinger Sr. | Mr. Dark | Nome King | Princess Mombi | Judge Doom | Toon Patrol (Smarty, Greasy, Psycho, Wheezy & Stupid) | Neville Sinclair | Lothar | Coach Jack Reilly | Warden Nigel Snyder | Josepg Pulitzer | Delancey Brothers | Dr. Charles Hendrickson | Winifred Sanderson | Mary Sanderson | Sarah Sanderson | John Ricketts | The King and the Duke | Pap Finn | William Boone | Buldeo | John Wilkins | Tabaqui | Sergeant Harley | Juice (Blank Check) | Ranch Wilder | Injun Joe | Tony Perkis | Agent Woods | Aunt Sponge & Aunt Spiker | Rhino | Skeleton Pirates | Shark | Cruella De Vil (1996) | Alonzo | Mr. Skinner | Jean-Pierre Le Pelt | Norman Snively | Ricky King | Charlotte (Jungle 2 Jungle) | Lyle Van de Groot | Max & Thor | Beatrice Stanhope | Wilson Croft | Luanne LeSeur | Meredith Blake | Eddie Taffet | Andrei Strasser | Dr. Elliot Coleye | Dr. Claw | Lana Thomas | Principal Elliot T. Jindraike | Toy Santa | Warden Walker | Mr. Sir | Charles "Trout" Walker | Kissin' Kate Barlow | Ramsley | Paolo Valisari | Stacey Hinkhouse | Carla Santini | Lord Kelvin | General Fang | Inspector Fix | Black Scorpions | Viscount Mabrey | Ian Howe | Royal Pain | Stitches | Jadis the White Witch | Maugrim | Ginarrbrik | General Otmin | Vardan | Dr. Kozak | Jack Frost | Janice Avery | Gary Fulcher | Queen Narissa | Mitch Wilkinson | Simon Bar Sinister | Riff Raff | El Diablo | Kendall Duncan | Tiara Gold | Tess Tyler | Speckles | Miraz | Sospespian | Glozelle | Nikabrik | Hag & Werewolf | Lucinda | Oswald Granger | The Red Queen | The Knave of Hearts | Hamish Ascot | The Jabberwock | Jubjub Bird | Nizam | Morgana le Fay | Maxim Horvath | Ms. Stout | CLU 2 | Rinzler | Sab Than | Matai Shang | Tal Hajus | Jenny | Latham Cole | Butch Cavendish | Jay Fuller | Evanora | Theodora | King Stefan | King Henry | Taylor Dean | The Giantess | The Witch | The Wolf | Lady Tremaine (2015) | The Grand Duke (2015) | David Nix | Shere Khan (2016) | King Louie (2016) | Kaa (2016) | Fleshlumpeater | Bloodbottler | Giants | The King (2017)
Other Animated Movies
Br'er Fox & Br'er Bear | Elmo St. Peters | Giant Magnet | Evil Clown | Merlock | Guy Graham | Phillium Benedict | Fenwick | Kojak | Ivan Krank | Von Talon | Cufflingk & Underlingk | Kazar | The Supervisor | Mr. Whiskers | Were-Rat | Shelley | Colossus | Nassor | Edgar Gore | Toshiaki | Mr. Burgermeister | Ripslinger | Cad Spinner

Pixar
Sid Phillips | Hopper | Molt | Thumper | Stinky Pete | Al McWhiggin | Emperor Zurg | Zurg Empire (Zurg Bots, Warp Darkmatter, Hornets, Brain Pods & Grubs) | Henry J. Waternoose III | Randall Boggs | Jeff Fungus | Syndrome | Mirage | Omnidroids | Underminer | Bomb Voyage | Chick Hicks | Chef Skinner | AUTO | Charles Muntz | Alpha | Beta & Gamma | Lotso | Lotso's Gang (Ken, Big Baby, Stretch, Chunk, Sparks, Twitch & Monkey) | Miles Axlerod | Zundapp | Grem | Acer | Mor'du | Johnny Worthington III | Chet Alexander | Roar Omega Roar | Thunderclap | Pterodactyls | Bubbha | Velociraptors

Sequels
Abis Mal | Sa'Luk | Forty Thieves | Forte | Jesters | Zira | Nuka | Vitani | Outsiders | Morgana | Undertow | Cloak & Dagger | Bradley Uppercrust III | Tank | The Gammas | Buster | Reggie | Sarousch | Pom-Pom | Jacques von Hämsterviel | Reuben | Leroy | Erik Hellstrom | Lil' Lightning | Lord Qin | Atka | Dixie | Mama Gunda | Uto & Kago | Marina Del Rey

Shorts and Comics
Peg Leg Pete | Kat Nipp | Mad Doctor | H. U. Hennessy | Big Bad Wolf | Captain Katt | Mortimer Mouse | Ajax the Gorilla | Beagle Boys | Flintheart Glomgold | Magica De Spell | Grace Goodwin

Ad blocker interference detected!
Wikia is a free-to-use site that makes money from advertising. We have a modified experience for viewers using ad blockers

Wikia is not accessible if you've made further modifications. Remove the custom ad blocker rule(s) and the page will load as expected.