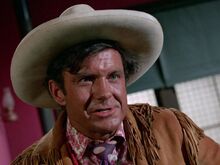 Shame is a villain in the 1960s Batman series created for the series. He is a conniving cowboy and outlaw who plots to defeat Batman and Robin.
Batman 1960s Series
Shame was known by many as the conniving cowboy of crime with his trademark white stetson and trusty six shooters, who was quite clever despite his dimwitted look. Though his complete background is not known, Shame has claimed that he had to be good with a six-shooter where he came from. He has a reputation for always showing bravado and daring, but he often embraces cowardice when facing Batman. He usually tries to win fights by outnumbering his opponents and using firearms, but Batman always prevailed nevertheless. Shame wears a rather colorful outfit compared to most bandits, sporting a bright purple polka-dotted bandanna during hold-ups. He has a quick temper, and when he loses it he begins screaming, shooting and throwing objects around the room.
His first nefarious scheme was to build a super-powered truck that could outrace the Batmobile and then steal four prize Black Angus Bulls each worth $300,000 on display at the Gotham rodeo. However, the Dynamic Duo knew that he would steal the bulls and figured out that he would need to feed them. After a blazing gun battle, Shame and his gang were defeated and sent to prison.
Later on, Shame escaped from prison with help of his fiancee Calamity Jan and formed a new gang.
He started with stealing a priceless diamond pendant and a $22,000 bankroll from famous singers at the Gotham City Opera house, then went on to steal old money on a train that was being transferred to the Gotham Treasury for destruction. Batman decided to allow Shame's pride to be his downfall by challenging him to a showdown in the condemned tenement district. Shame attempted to doublecross him by telling his gang to wait in a nearby alley and open fire on his signal but the gang were captured by Robin and Batgirl. After a fierce fight, Batman captured Shame and his gang were taken with him to prison.
His hideouts have included Westernland Amusement park and Gotham City Central Park Stables. Even though he was always quick on the draw, Batman was always quick with his mind. This always lead to his defeats because he could only use his guns, not his fists.
Notes
Shame is an allusion to and parody of Shane
Ad blocker interference detected!
Wikia is a free-to-use site that makes money from advertising. We have a modified experience for viewers using ad blockers

Wikia is not accessible if you've made further modifications. Remove the custom ad blocker rule(s) and the page will load as expected.