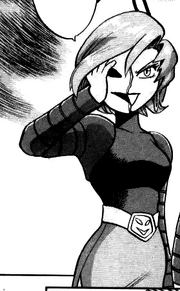 Sham (Japanese: シャム Siam), known as Chermaine in the Chuang Yi's English translation of the manga, along with Karen, Will, Green, Silver, and Carl, is one of the children kidnapped by the Masked Man and raised to be his servants. Sham was one of the sub-leaders of the new Team Rocket formed in Johto.
History
Sham, along with Carl, debut in Piloswine Whine where they attack an arguing Gold and Silver. After Carl's Piloswine and he attempts to call for backup, Sham tells them that they no longer to be there; they then make their retreat. Sham and Carl are later seen torturing the Team Rocket Elite Trio for their recent defeat at the hands of Eusine and losing the Pokémon they were tracking, Suicune. They are soon joined by the new leader of Team Rocket, the Masked Man, who decides it is time to start his master plan at the Indigo Plateau. Later, at the Indigo Plateau, Sham and Carl are seen having taken control of the Pokémon League's control room. They are approached by Gold and Crystal who have come to try and stop them. Sham and Carl use their Pokémon to paralyze them, but with quick thinking, Gold manages to put their Pokémon to sleep. Despite their Pokémon being asleep, Sham and Carl are still able to fight. Eventually, their Pokémon are defeated with a Giga Drain combination attack that sends their Slowking and Magcargo flying towards them. While Carl is knocked out cold, Sham manages to stay awake long enough to reveal that they were only decoys.
Sham's Pokemon
Ad blocker interference detected!
Wikia is a free-to-use site that makes money from advertising. We have a modified experience for viewers using ad blockers

Wikia is not accessible if you've made further modifications. Remove the custom ad blocker rule(s) and the page will load as expected.