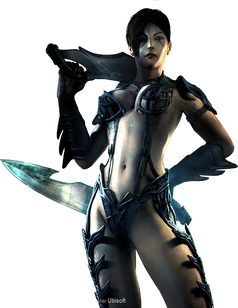 Shahdee is the tertiary antagonist in Prince of Persia: Warrior Within. She is a humanoid sand monster created by the Empress of Time.
History
Shahdee first appears on the Island of Time. when the Empress Kalieena sends her to attack and kill the Prince of Persia, who was sailing to the Island to kill her and change his fate. Kaileena was also trying to change her fate but Shahdee argued that no one change their fate. However Kaileena only responded by threatening her with death if she faiiled. As the Prince's ship was approaching the Island, Shahdee and her sand monster army attacked them with their own ship. The Prince and Shahdee then engaged in a one on one fight. However, Shahdee overpowered him and tuanted him saying that the Empress overestimated his abilities. After the Prince was washed up on the island's shore, he found Shahdee and challenged her to a fight. During the fight, Shahdee fled and went back to Kaileena. She told him that the Prince survived the attack. This angered Kaileena and the two of them fought and Shahdee gained the upper hand and Kaileena fell over a ledge. The Prince later showed up telling Shahdee that they have unfinished business. The two of them once again fought and Shahdee was defeated. Shahdee then warned him and Kaileena that they cant change their fate and then died.
Ad blocker interference detected!
Wikia is a free-to-use site that makes money from advertising. We have a modified experience for viewers using ad blockers

Wikia is not accessible if you've made further modifications. Remove the custom ad blocker rule(s) and the page will load as expected.