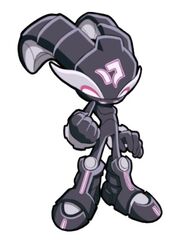 Shade is an echinda from the Twilight Cage who is particually famous for being the leader of the Marauders. She fights Sonic once then when she is defeated she disappears to Angel Island. It is there on Angel Island that she realizes that she was blind to what Ix really had in store in the future. When she found out that Ix was planning world domination again she decides to join Sonic's team and take down Ix.
Ad blocker interference detected!
Wikia is a free-to-use site that makes money from advertising. We have a modified experience for viewers using ad blockers

Wikia is not accessible if you've made further modifications. Remove the custom ad blocker rule(s) and the page will load as expected.