Seymour "Sy" Parrish is the main character of the 2002 psychological thriller film One Hour Photo.
He was portrayed by the late  Robin Williams who also played Walter Finch and Rainbow Randolph the same year.
Biography
He is a photo technician who works at SavMart. He leads a lonely life outside of the department store. His work is life as he has no one to go home to at the end of each day, he spends his life at home sitting alone and watching television. His only companion is a hamster. His favorite customers are the Yorkin family and Seymour has developed an obsession for them, idolizing their happiness and affluence and wanting to associate with them.
He secretly makes copies of the Yorkin family pictures and puts them on the walls of his apartment, he fantasies about being a member of their family and sharing their love he thinks they feel. He is fired for having unexplainable additional prints of the Yorkin family.
He looks at the pictures one last time and finds out that Will Yorkin is having an affair, and his notions of their "perfect" family are shattered.
Sy starts taking pictures of his boss' daughter as revenge for firing him, leading to a police investigation against him. While they discover his obsession, Seymour confronts Will and his mistress Maya Burson during a rendezvous in their hotel room. Armed with a knife and a camera, he forces the lovers to pose naked while he takes pictures of them. After the event, the police arrive and he attempts to escape, but triggers an alarm and Van Der Zee chases him while Outerbridge discovers the traumatized couple. After the chase, Seymour is caught and arrested in the parking garage as he attempted to make a break for his car, with Sy saying he just "took pictures".
During the investigation, Van asks why he terrorized the Yorkins. Sy asks the detective questions about his family and he does not answer. He can tell that Van is a good man and not the kind of father that would take "sick, degrading pictures of his children".  With Van preparing to take his confession, Sy asks for the pictures he took at the hotel, which Van says they are "evidence". They appear to only be shots of the household and interior furnishings. The film ending is of a picture of him and the Yorkin family.
Photo Gallery
Videos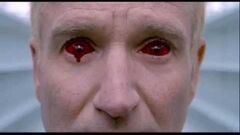 Trivia
The fictional store SavMart where Seymour Parrish works at, is a parody of superstores WalMart and Save Mart Supermarkets.
Jack Nicholson, who played Jack Torrance and The Joker was considered to play this role, but lost to Robin Williams. Coincidentally, Robin Williams was considered for Jack Torrance and the Joker.
Ad blocker interference detected!
Wikia is a free-to-use site that makes money from advertising. We have a modified experience for viewers using ad blockers

Wikia is not accessible if you've made further modifications. Remove the custom ad blocker rule(s) and the page will load as expected.