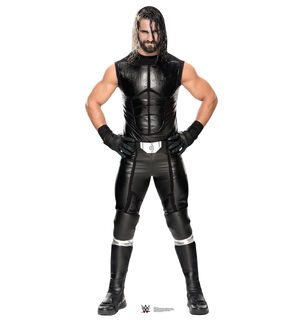 Seth Rollins is a professional wrestler in WWE and the current WWE World Heavyweight Champion and a member of The Authority (WWE). He was also the main antagonist of WWE from November 2014 to November 2015 due to his arrogance and being self-centered which caused him to be disliked by certain WWE superstars.
He is a former member of the villainous faction The Shield. He is currently in a rivalry with Kane, Brock Lesnar and John Cena. He is also shifting roles maybe hero.
See Seth Rollins on The Hero Wiki add a page for him on the Heroes Wiki.
Villainous Acts
Quotes
I AM The Future of WWE!
I am The Undisputed Future of WWE!
Believe In the Shield
I Bought in to the Evolution of Seth Rollins!
NO! NO! NO! NO! THAT'S GOTTA BE A FAKE STATUE! THAT'S MY PROPERTY! THAT'S MY PROPERTY!!! (after witnessing Sting destroying his statue)
NO! NO NOT KANE! (After Kane's various attacks and assaults and mind games).
You Mess with Greatness and You Will Fail!
Seth Rollins is What's Best for Business!
I am The Man of WWE!
The Future is Now!
John Cena Your Time is Up My Time is Now!
Believe in Seth Rollins!
I Curbstomped Orton for my own Reasons!
Dean Ambrose is a lunatic give him a week to his own devices and he's face down in a ditch
Roman Reigns is a hothead without me nobody can control him
I Broke your Nose Cena How Do You Like That!
The Face of WWE is outdated I'm The Future of WWE!
Now I am The Face of WWE! Not Randy Orton!
I Am The New Face of WWE!
Gallery