✔



Click To Help Dr. Wily!

Dr. Wily has declared that this article is still under construction.
Please don't delete or edit this article yet, it may contrast with the original author's edits.
After I finish this article, the world will be mine! MWAHAHAHAHA!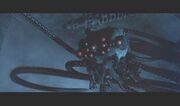 Sentinels are Machinists who are known as "Squiddys" by the Human Resistance in The Matrix.
History
Sentinels were created in the late 21st century and live on the robotic country 01. After the Machines took the humans and the Architect created the Matrix, the Sentinels are the most prominent Machinists. Since the 22nd century, they were occupied by the Deus Ex Machina. They have been attacking the Human Resistance for 600 years.
Abilities
?
Trivia
They became the inspiration for the Cy-Bugs from Disney's Wreck It Ralph.