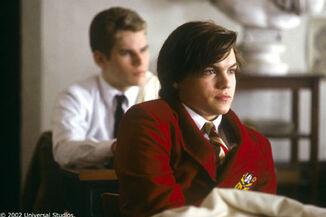 Sedgewick Bell is a character in the film The Emperor's Club. He is introduced as the spoiled, troublemaking son of U.S. senator and a student in William Hundert's prep school class. Despite his rebellious nature, he appears to improve over the course of the year, and even manages to secure a place as one of the three Emperor's Club contestants. During the contest, Sedgewick tries and fails to cheat, losing Hundert's respect in the process.
Years later, a grown-up Bell has become a successful politician like his father and returns to the school for an Emperor's Club rematch, in order to regain his integrity. Hundert agrees to the rematch, only to discover that Bell is still as much of a cheater as ever.
Ad blocker interference detected!
Wikia is a free-to-use site that makes money from advertising. We have a modified experience for viewers using ad blockers

Wikia is not accessible if you've made further modifications. Remove the custom ad blocker rule(s) and the page will load as expected.