✔
Mellencamp was a mutant who not long after his mutant powers manifested, Mellencamp was recruited as an Acolyte taught him the ways of Magneto, believed dead at the time but was really in hiding.  Mellencamp proceeded to take part where the Acolytes were attacked by X-Factor. Mellencamp was severely injured by Multiple Man after he created a new dupe inside him, forcing Mellencamp to burst open. The other Acolytes had to leave him behind and the injured Mutant was taken into custody.
Mellencamp would find a new home on Genosha, in the wake of Magneto taking over the island as a dictator, making it a new safe haven for mutants. He died in the attack on Genosha but was resurrected by Eli Bard, using the Transmode Virus. On Utopia, he battled Loa, who managed to defeat him. Mellencamp is a mutant had to deal with a lot of hardships because of his reptilian appearance. Mellencamp was recruited for Fabian Cortez who was believed dead at the time.
Necrosha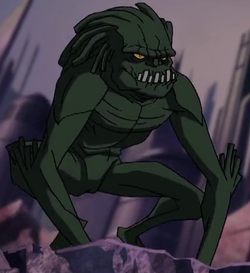 Mellencamp was resurrected via the Transmode Virus during the Necrosha crisis and, searching for Magneto with his fellow acolytes Delgado and Cortez, battled Deadpool and Loa. He was eventually, and in contrast to the other "zombies", who weren't seemingly possible to terminate, killed by Loa's powers, who jumped on him in order to save Deadpool.