Senõr Pellosino (a.k.a. Señor Calvillo), this character appears in only one episode called "Se Vende La Vecindad."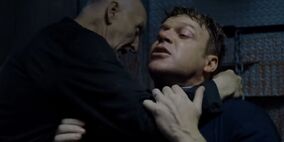 In this episode, Sr. Barriga discovers that he has heart problems and must move to a location with a lower altitude. Senõr Pellosino thus offers to buy the vecindad, or neighborhood, from him. Everybody is against it, except for Doña Cleotilde. Fortunately, Sr. Barriga's diagnosis is changed, and he proceeds to stay without selling to Sr. Pellosino. This character is portrayed for one episode only by Ricardo de Pascual, the same actor who plays Sr. Hurtado.
Ad blocker interference detected!
Wikia is a free-to-use site that makes money from advertising. We have a modified experience for viewers using ad blockers

Wikia is not accessible if you've made further modifications. Remove the custom ad blocker rule(s) and the page will load as expected.