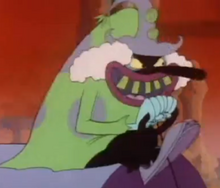 Scuzzo is the main antagonist of the Beetlejuice cartoon. He is the ghost with the most's rival, who wants to make everything funny, which Beetlejuice hates. He sometimes works with his brother, though he is the mastermind and leader of the two.
Personality
Scuzzo is an annoying clown and gets on Beetlejuice's nerves. He is also very arrogant.
Powers
He seems to share some of the same abilities.