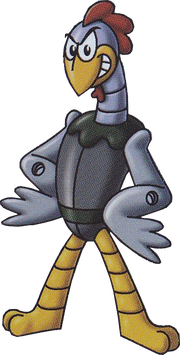 Scratch is a fictional robot in the Sonic the Hedgehog universe. He is a loyal, yet dim-witted robot who serves Dr. Robotnik who created him and his brother Grounder. throughout the cartoon Adventures of Sonic the Hedgehog, along with the short, treaded Grounder. He is a tall, roughly humanoid robot with chicken-like features, including "scaled" feet, winglike arms, a feathered tail, and a beak. Scratch seems to be the leader of the three badniks (himself, Grounder, and Coconuts), and is marginally smarter than Grounder, making up for his lack of Grounder's assorted gadgets.
Mean Bean Machine
Scratch makes a appearance in the puzzle game Dr. Robotnik's Mean Bean Machine. He is the semi-final boss who you fight on stage 12 and is almost as difficult as Dr. Robotnik himself. However, his style of gameplay causes him to do stupid things, which can end up killing himself.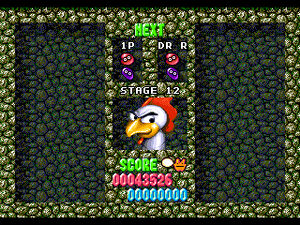 Ad blocker interference detected!
Wikia is a free-to-use site that makes money from advertising. We have a modified experience for viewers using ad blockers

Wikia is not accessible if you've made further modifications. Remove the custom ad blocker rule(s) and the page will load as expected.