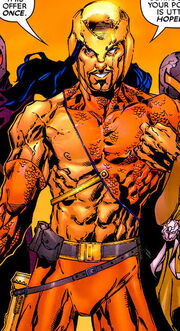 Scimitar is from the Middle Eastern country of Halwan, the age old enemy of Murtakesh, the home of the Black Tiger. Scimitar fought Iron Fist (Daniel Rand) a number of times.
He was hired by the Weaponeers to assist in their attack on Zanzibar, the Weaponeers themselves hired by the Hellfire Club led by Sat-Yr-Nin. The Weaponeers ended up double-crossing Viper and Sat-Yr-Nin. In retaliation, Viper shot Scimitar in the back, killing him.
Ad blocker interference detected!
Wikia is a free-to-use site that makes money from advertising. We have a modified experience for viewers using ad blockers

Wikia is not accessible if you've made further modifications. Remove the custom ad blocker rule(s) and the page will load as expected.