Schrott is the main antagonist of the 1958 movie It Happened in Broad Daylight.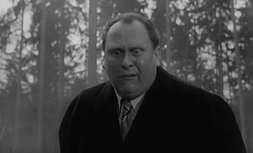 He was portrayed by german actor Gert Fröbe, who is best known for his portrayal of Bond villain Auric Goldfinger.
History
Having developed a hate for women due to his marriage with his domineering wife, Schrott started killing children. One of his victims is found by a man called Jacquier, who calls the police. The police initially suspects Jacquier, who is forced to admit the crimes and later hangs himself in his cell. However, Oberleutnant Matthäi does not believe in Jacquiers guilt and after finding out that the murders all happened near the same road.
To find the killer, Matthäi sets up a trap, letting the girl Annemarie play near the street. There, Schrott sees her and makes contact with her, giving her a pack of chocolate and telling her not to tell anybody. When Annemarie returns with the chocolate, Matthäi knows that the killer is still out (as the first victim also had this chocolate). Setting another trap, Matthäi leaves a doll wearing Annemaries clothes in the forest near the road, where Schrott planned to meet Annemarie again. Upon arrival, Schrott sees the doll believing it to be a murdered Annemarie. Out of surprise he screams, which Matthäi uses as a sign and reveals himself to Schrott. Schrott loses his nerves and attacks Matthäi, believing him to be the one who murdered Annemarie, and is subsequently shot by the police.