Scarecrow (also called "Dr. Scarecrow") is the first main enemy of Licca in Super Doll Licca-chan anime series.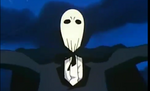 He was a mere wizard from the Doll Kingdom, that always knew about the threat about devils, so, started various speeches to warn the people, but, only Puru and Waya follow his advices. so, after accepting them as magicians disciples (even with they don't show possess magic abilities) and goes to be a servant of the Yae (the queen of the Doll Kingdom) to protect Licca. He thought she wanted saves the Doll Kingdom from an ice age, but, she was possessed by Devaul that wished Licca in the Kingdom for saves it from the ice age that he caused. He was sent to the human world to kidnap Licca, two saves the Doll Kingdom, the land where he is a wizard. He has two henchmen: Puru and Waya and with them failure, Scarecrow rebukes them, and Devaul rebukes him. He had the power to change his form.
Scarecrow, with Yae help, gets the bracelet of Isamu and Isamu become his bodyguard. But, after various mistakes and failures, Scarecrow is imprisoned by Yae after shows the truth about Devaul.
After some episodes, Scarecrow and his henchmen come to the good side and protects Licca from Devaul. Misty asks to Yae to free Scarecrow to his gain Licca's trust and use him to kidnap her with a brainwash. Scarecrow breaks the brainwash, and is captured again.
In the final battle, Devaul uses Scarecrow to give his own power to possess him again. Devaul give a dragon to Scarecrow and he goes to defeat Licca, but, Puru and Waya made him recover his sanity. He helps Licca in the final fight against Devaul.
Trivia
His staff has a Owl's statue as symbol.