| | | |
| --- | --- | --- |
| " | Long live the King. | " |
| | ~ Scar showing his true nature to his brother Mufasa, mere moments before throwing him back into the stampede to his death - his most famous quote. | |
Scar, born as Taka, is the main antagonist of Disney's 32nd full-length animated feature film The Lion King, a posthumous antagonist in it's 1998 sequel The Lion King: Simba's Pride and the main antagonist in the second season of The Lion Guard. He is Mufasa's jealous younger brother and Simba's uncle and arch-nemesis. Scar's desire to rule Pride Rock drives him to enact a plot to kill both his brother and nephew to leave himself the sole royal in line for the throne as "true" ruler.
Voices
In the original film, he was voiced by the Academy Award winning actor, Jeremy Irons, who also played Simon Gruber in Die Hard with a Vengeance and Profion in Dungeons & Dragons.
In the 1998 sequel The Lion King II: Simba's Pride, he was voiced by Jim Cummings, who was his singing voice in the film and also played Jacques from Scooby-Doo on Zombie Island released that same year.
In The Lion Guard, he was voiced by David Oyelowo.
In the 2019 CGI live action remake, he will be voiced by the Academy Award nominated actor Chiwetel Ejiofor, who also played Victor Sweet in Four Brothers, and Baron Mordo in Doctor Strange.
Description
Appearance
| | | |
| --- | --- | --- |
| " | Well, as far as brains go, I got the lion's share, but when it comes to brute strength..... I believe I am at the shallow end of the gene pool... | " |
| | ~ Scar remarking on his poor genetics despite his high intelligence. | |
Scar is a slender lion, but stands eye to eye with Mufasa and Simba, making him tall - otherwise bulky - like they are. He has sharp features and is a gangly lion, thanks to poor genes, with orangish-brown fur and striking green eyes. He has a silky black mane, elbow tufts, a goatee beard and his claws are always extended. He also has a pink scar over his left eye, earning him his name. Despite his poor genetics, Scar is physically strong, as he held his own very well against the more powerfully built Simba during their final battle.
Personality
Scar is a cunning, sarcastic, manipulative, selfish, traitorous, dramatic, and somewhat narcissistic lion with a cultured and chivalrous demeanor, and a wry and cynical wit. However, even with his evil and deceiving ways, he is still very cowardly and prefers to run rather than fight, though if cornered Scar has shown the ability to hold his own as seen in his fight with Simba.
Scar is filled with hate and disgust for his brother and nephew, and most likely everybody against him. He does not care much about the hyenas and seems to view them more as tools and weapons to use for his own benefit, which ultimately resulted in his death when he tried to blame his crimes on them.
Scar is also very antipathetic and intolerant of failure, berating the hyenas for their failure to kill Simba, and angrily throwing them out after they made the mistake of mentioning his brother, Mufasa, of whom Scar was extremely jealous.
Nevertheless, Scar is also very sophisticated, charismatic, and persuasive, able to rally the hyenas to his cause and inspire fanatical loyalty from Zira and her pride of lionesses.
He is also highly intelligent and knowledgeable, able to manipulate conversations and situations to his advantage with relative ease. Scar also proved to be extremely sadistic and unmerciful, convincing his own nephew, Simba, that he was responsible for the death of his father, Mufasa, and later going on to taunt him that in fact, he himself was responsible for Mufasa's demise, which also led to his own demise.
Upon his return in The Lion Guard, Scar became more chaotic in nature, as he was willing to break the Circle of Life and take over the entire Pride Lands by turning it into chaos as revenge for his defeat.
Other Appearances
The Lion King Musical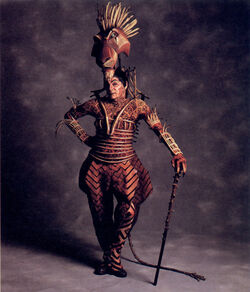 | | | |
| --- | --- | --- |
| " | Come, sweet Nala. It's written in the stars. (Nala: What are you doing? Are you listening to me?) We'll create a host of little Scars. | " |
| | ~ Scar trying to seduce Nala into being his queen. | |
Within the musical of the same name, Scar's actions are relatively the same as compared to the original film, with a few exceptions: one of them being that he had any of his followers who had questioned his leadership put to death for doing so. The other being that he at one point tries and fails to make Nala become his queen and mother of his children (an act of his that was cut from the original film). He also becomes more and more paranoid as he feels he's being haunted by his deceased older brother.
Sorcerers of the Magic Kingdom
In Adventure Land, Scar makes a deal with Hades, where as if Scar could obtain the crystal of the magic kingdom, he would be granted immortality and rule over the Pride Lands forever.
He forces the hyenas to work for him again, deceptively convincing them that he is invincible. he tries to get them to start an elephant stampede to crush anyone who gets in his way, but they fail. When the Park guests injure Scar in front of the hyenas, Shenzi is the first to see through his lies, rallies up the pack, and leaves.
After a conversation with Hades, Scar twice battles the park guests, the first time beating them, the next time, it's vice versa. Hades gives Scar one last chance and turns him into a devilish and destructive storm cloud, and battles the park guests again. Scar is ultimately defeated and the park guests win. Later, at the end, he is sucked into a snow globe with Hades and all of the other he recruited.
Scar appears as both the main antagonist and final boss of the 1994 video game adaptation The Lion King on Super Nintendo Entertainment System and Sega Genesis/Mega Drive.
Kingdom Hearts II
| | | |
| --- | --- | --- |
| " | How does it feel to be king, hmm? | " |
| | ~ Scar's Ghost taunting Simba. | |
Scar is a boss in the Pride Lands chapter, and teams up with Pete. In the end, he faces Simba as in the movie, only he goes up the cliff and Pete reveals that Scar has become a Heartless. Sora, Donald and Goofy join Simba to face the tyrannical lion who ends up losing before collapsing from exhaustion and dying.
His ghost was also a boss in Kingdom Hearts II. He looks like the living Scar, but he is darker in color and he has a dark aura around him.
Now a ghost filled with hatred, he would haunt Simba, who was now king. This caused Simba to become extremely afraid. This made him the laughing stock of the hyenas, mainly Shenzi, Banzai and Ed. Simba seeked help, and went to the hyenas, asking if they knew of Scar's Ghost. They knew nothing, and said Scar's Ghost only hangs out around fraidy cats. Immediately, Scar's Ghost appeared. He taunted Simba, asking what it was like to be king. Simba retreated, causing the hyenas to laugh maniacally. Simba went to his paradise, where he met Timon and Pumbaa, but even there he was not safe from the ghost, and was still tormented. He was having doubts and Sora tried to snap him out of it but it didn't work. Then Donald used his powers to create a fake ghost, and it taunted Simba until he overcame his fear and pounced on it.
Now facing his fears, he went back to the Pridelands. Scar's Ghost was already there, and it was now haunting Simba's wife Nala and Pumbaa. When Simba returned, the ghost confronted him, but Simba told it to get out, scaring it away. Soon after, all of the ghosts came and formed a giant Heartless beast called the Groundshaker. The beast attacked, and a large battle ensued. The Groundshaker took several hits, and it collapsed and disappeared. Simba claimed his place as king.
Quotes
| | | |
| --- | --- | --- |
| " | Life's not fair, is it? You see I-- well, I... shall never be King. And you... shall never see the light of another day. Adieu... (Zazu: Didn't your mother ever tell you not to play with your food?) What do you want? (Zazu: I'm here to announce that King Mufasa is on his way. So you'd better have a good excuse for missing the ceremony this morning.) Oh now look, Zazu, you've made me lose my lunch. (Zazu: Hah! You'll lose more than that when the king gets through with you. He's as mad as a hippo with a hernia.) Oooh, I quiver with fear. | " |
| | ~ Scar lamenting about how life isn't fair as he will never be king while attempting to devour a mouse before being interrupted by Zazu who tells him off for missing Simba's ceremony. | |
| | | |
| --- | --- | --- |
| " | Why, If it isn't my big brother descending from on high to mingle with the commoners. (Mufasa: Sarabi and I didn't see you at the presentation of Simba.) That was today? Oh, I feel simply awful. Must have slipped my mind. (Zazu: Yes, well, as slippery as your mind is, as the king's brother, you should have been first in line!) Well, I was first in line... until the little hairball was born. (Mufasa: That "hairball" is my son and your future king.) Ohh, I shall practice my curtsy. (Mufasa: Don't turn your back on me, Scar.) Oh, no, Mufasa. Perhaps YOU shouldn't turn YOUR back on me. (Mufasa: Is that a CHALLENGE?) Temper. Temper. I wouldn't dream of challenging you. (Zazu: Pity. Why not?) Well, as far as brains go, I got the lion's share. But, when it comes to brute strength ...I'm afraid I'm at the shallow end of the gene pool. | " |
| | ~ Scar making up excuses for missing Simba's ceremony and reassuring Mufasa that he wouldn't dare to challenge him as he doesn't have the brawn to do it. | |
| | | |
| --- | --- | --- |
| " | (Simba: Hey Uncle Scar! Guess what!) I despise guessing games. (Simba: I'm going to be king of Pride Rock.) Oh goody. (Simba: My dad just showed me the whole kingdom; and I'm going to rule it all. Heh heh.) Yes. Well... forgive me for not leaping for joy. Bad back, you know. (Simba: Hey, Uncle Scar? When I'm king, what'll that make you?) A monkey's uncle. (Simba: Heh heh. You're so weird.) You have NO idea..So, your father showed you the whole kingdom, did he? (Simba: Everything.) He didn't show you what's beyond that rise at the northern border...? (Simba: Well, no... he said I can't go there.) And he's absolutely right. It's far too dangerous. Only the bravest lions go there. (Simba: Well, I'm brave! What's out th--) No, I'm sorry, Simba, I just can't tell you. (Simba: Why not?) Simba, Simba, I'm only looking out for the well- being of my favorite nephew. (Simba: Yeah, right, I'm your only nephew.) All the more reason for me to be protective... An elephant graveyard is no place for a young prince... Oops! (Simba: An elephant what? Whoa.) Oh dear, I've said too much... Well, I suppose you'd have found sooner or later, you being SO clever and all...Oh, just do me one favor - promise me you'll never visit that dreadful place. (Simba: No problem.) There's a good lad. You run along now and have fun. And remember... it's our little secret. | " |
| | ~ Scar tricking Simba into going to the Elephant Graveyard after he intentionally reveals its existence to the cub. | |
| | | |
| --- | --- | --- |
| " | Oh, surely we lions are not all THAT bad. (Banzai: Ohh. Oh, Scar, it's just you.) (Shenzi: We were afraid it was somebody important.) (Banzai: Yeah, you know, like Mufasa.) (Shenzi: Yeah.) I see. (Banzai: Now that's power.) (Shenzi: Tell me about it. I just hear that name and I shudder.) (Banzai: Mufasa.) (Shenzi: Ooooh. ... Do it again.) (Banzai: Mufasa.) (Shenzi: Ooooh!) (Banzai: Mufasa. Mufasa! Mufasa!) (Shenzi: ...Oooh! It tingles me.) I'm surrounded by idiots. | " |
| | ~ Scar greeting the hyenas. | |
| | | |
| --- | --- | --- |
| " | I don't think you really deserve this. I practically gift-wrapped those cubs for you. And you couldn't even dispose of them. (Shenzi: Well, ya know. It wasn't exactly like they was alone, Scar.) (Banzai: Yeah. What are we supposed to do? Kill Mufasa?) Precisely. | " |
| | ~ Scar scolding the hyenas for failing to kill Simba and Nala before his song "Be Prepared" starts. | |
| | | |
| --- | --- | --- |
| " | Now you wait here. Your father has a marvelous surprise for you. (Simba: Oooh. What is it?) If I told you, it wouldn't be a surprise, now would it? (Simba: If you tell me, I'll still act surprised.) Ho ho ho. You are such a naughty boy. (Simba: Come on, Uncle Scar.) No-no-no-no-no-no-no. This is just for you and your daddy. You know, a sort of... father-son... thing. Well! I'd better go get him. (Simba: I'll go with you.) No! Heh heh heh. No. Just stay on this rock. You wouldn't want to end up in another mess like you did with the hyenas... (Simba: You know about that?) Simba, everybody knows about that. (Simba: Really?) Oh, yes. Lucky Daddy was there to save you, eh? Oh... and just between us, you might want to work on that little roar of yours. Hmm? (Simba: Oh... Okay... Hey, Uncle Scar, will I like the surprise?) Simba, it's to DIE for. | " |
| | ~ Scar tricking Simba into staying in a gorge in order to have him and Mufasa killed by a wildebeest stampede. | |
| | | |
| --- | --- | --- |
| " | Simba, what have you done? (Simba: There were wildebeests and he tried to save me... it was an accident, I... I didn't mean for it to happen.) Of course, of course you didn't. No one... ever means for these things to happen. ...But the king IS dead. And if it weren't for you, he'd still be alive. Oh! What will your mother think? (Simba: What am I gonna do?) Run away, Simba. Run... Run away and never return. (*Simba runs off the Hyenas appear*) Kill him. | " |
| | ~ Scar tricking Simba into thinking that his father's death was his fault and leaving the Pride Lands. | |
| | | |
| --- | --- | --- |
| " | Mufasa's death is a terrible tragedy; but to lose Simba, who had barely begun to live for me it is a deep personal loss. So it is with a heavy heart that I assume the throne. Yet, out of the ashes of this tragedy, we shall rise to greet the dawning of a new era in which lion and hyena come together, in a great and glorious future. | " |
| | ~ Scar delivering the news about Mufasa and "Simba's" deaths and introducing the hyenas as he takes over the crown. | |
| | | |
| --- | --- | --- |
| " | Oh Zazu, do lighten up. Sing something with a little... bounce in it. (Zazu: It's a small world after all...) No! No. Anything but that! (Zazu: I've got a lovely bunch of coconuts diddely-dee-dee. There they are a-standing in a row.) Big ones, small ones, some as big as your head... (Zazu: Oh... I would never have had to do this for Mufasa.) What? What did you say? (Zazu: Oh, nothing!) You know the law: Never, ever mention THAT name in my presence. I... am... the KING! (Zazu: Yes, sire. You ARE the king. I... I... Well, I only mentioned it to illustrate the differences in your royal managerial approaches.) | " |
| | ~ Scar forcing Zazu to sing for him and angrily reminding him that he must never mention Mufasa's name in his presence. | |
| | | |
| --- | --- | --- |
| " | (Banzai: Hey Boss!) Oh, what is it this time? (Banzai: We got a bone to pick with you.) (Shenzi: I'll handle this. Scar, there's no food, no water...) (Banzai: Yeah, it's dinner time, and we ain't got no stinkin' entrees.) It's the lionesses' job to do the hunting... (Banzai: Yeah, but they won't go hunt.) Oh... eat Zazu. (Zazu: Oh, you wouldn't want me! I'd be so tough and gamey and... eeww...) Oh, Zazu, don't be ridiculous. All you need is a little garnish. (Banzai: I thought things were bad under Mufasa.) What did you say? (Banzai: I said Muf... I said, uh "Qué pasa?") Good. Now get out. (Banzai: Mm... yeah, but - we're still hungry.) Out! | " |
| | ~ Scar listening to the hyenas' complaints about the Pride Lands with no food and water and demanding that they leave his cave after Banzai accidentally mentions Mufasa's name. | |
| | | |
| --- | --- | --- |
| " | SARABI! (Sarabi: Yes, Scar?) Where is your hunting party? They're not doing their job. (Sarabi: Scar, there is no food. The herds have moved on.) No. You're just not looking hard enough. (Sarabi: It's over. There is nothing left. We have only one choice. We must leave Pride Rock.) We're not going anywhere. (Sarabi: Then you have sentenced us to death.) Then so be it. (Sarabi: You can't do that.) I'm the king. I can do whatever I want. (Sarabi: If you were half the king Mufasa was you would nev-) I'm ten times the king Mufasa was! | " |
| | ~ Scar harassing Sarabi about the hunting party not doing their job. | |
| | | |
| --- | --- | --- |
| " | Mufasa? No. You're dead. (Sarabi: Mufasa?) (Simba: No. It's me.) (Sarabi: Simba? You're alive? How can that be?) (Simba: It doesn't matter; I'm home.) Simba...? Simba! I'm a little surprised to see you, alive. (Simba: Give me one good reason why I shouldn't rip you apart.) Oh, Simba, you must understand. The pressures of ruling a kingdom... (Simba: ...Are no longer yours. Step down, Scar.) Oh, oh, ye - Well, I would, heh, naturally, heh - however, there is one little problem. You see them? They think I'M king. (Nala: Well, we don't. Simba is the rightful king.) (Simba: The choice is yours, Scar. Either step down or fight.) Oh, must it all end in violence? I'd hate to be responsible for the death of a family member. Wouldn't you agree, Simba? (Simba: That's not gonna work, Scar. I've put it behind me.) Eh, but what about your faithful subjects? Have they put it behind them? (Nala: Simba, what is he talking about?) Ahh, so you haven't told them your little secret. Well, Simba, now's your chance to tell them. Tell them who is responsible for Mufasa's death! (Simba: I am.) (Sarabi: It's not true. Tell me it's not true.) (Simba: It's true.) You see! He admits it! Murderer! (Simba: No. It was an accident.) If it weren't for you, Mufasa would still be alive. It's your fault he's dead; do you deny it? (Simba: No.) Then... you're... guilty. (Simba: No. I'm not a murderer.) Oh, Simba, you're in trouble again. But this time, Daddy isn't here to save you. And now EVERYONE.. KNOWS... WHY! (Nala: Simba!) Now this looks familiar. Hmm. Where have I seen this before? Let me think. Hmmm... hmmm. Oh yes, I remember. This is just the way your father looked before he died. (Scar pierces Simba's paws with his razor-sharp claws and pulls him close to his face) And here's MY little secret: (whispers in Simba's ear) I killed Mufasa. (Simba: NoooooOOOO!) (*Simba jumps Scar*) (Simba: Murderer!) No, Simba, please. (Simba: Tell them the truth!) Truth? But truth is in the eye of the behold - (Simba presses his paw down on Scar's throat) llgkkk! All right. All right. (faintly) I did it. (Simba: So they can hear you.) I KILLED MUFASA! | " |
| | ~ Scar being forced by Simba to admit his role on Mufasa's death. | |
| | | |
| --- | --- | --- |
| " | (Simba: Murderer.) Simba, Simba. Please. Please have mercy. I beg you. (Simba: You don't deserve to live.) But, Simba, I am... ah... family. It's the hyenas who are the real enemy. It was their fault - it was their idea! (Shenzi, Banzai and Ed are in the background. They overhear and back away growling at Scar's betrayal.) (Simba: Why should I believe you? Everything you ever told me was a lie.) What are you going to do? You wouldn't kill your own Uncle...? (Simba: No, Scar. I'm not like you.) Oh, Simba, thank you. You are truly noble. I'll make it up to you, I promise. How can I, ah, prove myself to you? Tell me; I mean, anything. (Simba: Run. Run away, Scar. And never return.) Yes. Of course. As you wish... ...your Majesty! | " |
| | ~ Scar pathetically pleading Simba for mercy even blaming Mufasa's death on the hyenas (unaware that they overheard him) and being relieved when Simba decides to spare him and tells him to run away and never return, but Scar, refusing to accept defeat throws embers at Simba and attempts to kill him. | |
| | | |
| --- | --- | --- |
| " | Ahh, my friends. (Shenzi: Friends? I thought he said we were the enemy.) (Banzai: Yeah, that's what I heard.) (Scar's eyes widen with terror.) (Both: Ed?) (Ed cackles deviously as a whole horde hungry hyenas surround Scar) No! L-L-L-Le-Le-Le-Le-Let me explain. No, you don't understand! No, I didn't mean for... no, no! Look, I'm sorry I called you... no! NOOOO!!! | " |
| | ~ Scar's last words before the hyenas close in on him and fiercely rip him apart. | |
Trivia
According to the French, Scar is the only character who is not from Swahili, but from English.
Scar is notable for being voiced by Jeremy Irons and animated by Andreas Deja (who also animated Jafar, Alameda Slim, Dr. Frankenollie, and Gaston).

In Disney's Hercules, the Nemean Lion that Hades sends to fight Hercules looked so noticeably similar to Scar, additionally, after Hercules kills the beast and turns it into a skin, it looks exactly like Scar. Considering that Andreas Deja was the lead animator of the film, this cameo was likely a reference to his previous work. However, it's also a reference to Zazu's joke that Scar could be a perfect throw rug.

Scar's character is loosely based on Claudius from the Shakespearean play Hamlet; both are the uncle of the main character, and both kill their brother, the main character's father, in order to rule over a land originally ruled over by said brother. This is part in due to the various parallels The Lion King shares with Hamlet. However, unlike Claudius, who seems to hold some regret over killing his brother, Scar holds no guilt over killing Mufasa. Also, unlike Hamlet (who kills Claudius to avenge his father's death), Simba refuses to kill Scar (as he doesn't want to be like him).
Scar is also based on real-life dictator Adolf Hitler; the scene where Scar is over looking his hyena army mimics the scene where Hitler over looks his army and stretches out his hand over them.
Interestingly enough though Scar is not present most of the time in the sequel and prequel films he still has an important part to play in their stories.
It is said that there is no blood relation between Scar and Kovu, who appeared in "The Lion King II: Simba's Pride", so there is no blood relation between Kovu and Kiara. However Nuka mentions that Scar took Kovu in before he died.
In an earlier draft for The Lion King, Scar was originally a baboon as the plot of the film would have been about a battle between lions and baboons.
In an early script for The Lion King, Scar was a rogue lion who was never related to Mufasa and Simba. However, this was changed after the writers decided later in production that the threat should come from within the family for a bigger impact on the characters.
Scar was originally going to reveal his alligence with the hyenas to the pride some years into his reign instead of straight after becoming king.
In the early drafts of The Lion King II: Simba's Pride, Scar "was" meant to be Kovu's father. However, this was changed as this would have made Kovu and Kiara's relationship incestuous as they would have been second cousins.
Before Jeremy Irons was cast, actors such as Malcolm McDowell and Tim Curry were considered for the role.
Disney Villains
Animated Features
Queen Grimhilde | Magic Mirror | Honest John & Gideon | Stromboli | Coachman | Monstro | T-Rex | Chernabog | Pink Elephants | Man | Ronno | Tetti-Tatti | Lumpjaw | Willie | Mr. Winkie | Rustlers | Headless Horseman | Brom Bones | Lady Tremaine | Anastasia Tremaine | Drizella Tremaine | Lucifer | Queen of Hearts | Card Soldiers | Cheshire Cat | The Walrus & the Carpenter | Captain James Hook | Neverland Pirates (Mr. Smee) | Tick Tock the Crocodile | Rat | Si & Am | Dog Catcher | Maleficent | Diablo | Maleficent's Goons | Cruella De Vil | Jasper & Horace Badun | Madam Mim | Shere Khan | Kaa | King Louie | Bandar Log | Edgar Balthazar | Prince John | Sheriff of Nottingham | Sir Hiss | Captain Crocodile | Rhino Guards | Wolf Arrowmen | Trigger & Nutsy | Heffalumps & Woozles | Madame Medusa | Mr. Snoops | Brutus & Nero | Amos Slade | Chief | Horned King | Horned King's Army (Creeper & Gwythaints) | Cauldron Born | Orddu, Orwen & Orgoch | Arawn | Padraic Ratigan | Thugs (Fidget, Felicia & Bartholomew) | Bill Sykes | Roscoe & DeSoto | Ursula | Flotsam & Jetsam | Glut | Percival C. McLeach | Joanna | Beast | Gaston LeGume | LeFou | Monsieur D'Arque | Tom, Dick, Stanley & Walter | Wolves | Jafar | Iago | Razoul | Gazeem | The Cave of Wonders | Oogie Boogie | Lock, Shock & Barrel | Scar | Hyena Clan (Shenzi, Banzai & Ed) | John Ratcliffe | Percy | Claude Frollo | Frollo's Soldiers (Brutish Captain & Oafish Guard) | Hades | Pain & Panic | The Fates | Cerberus | Hydra | Titans (Lythos, Hydros, Pyros, Stratos & Cyclops) | Nessus | Nemean Lion | Shan Yu | Hayabusa | Elite Hun Soldiers | Cecil Clayton | Sabor | Clayton's Pirates | Black Triangles | Jack-in-the-Box | Firebird | Kron | Bruton | Kuzco | Yzma | Kronk | Lyle Tiberius Rourke | Rourke's Mercenaries (Helga Katrina Sinclair) | Leviathan | Vikings | Gantu | John Silver | Pirates (Scroop, Onus, Hands, Turnbuckle, Longbourne, Fayvoon, Grewnge, Krailoni, Hedley, Torrance, Mertock, Verne, Crex & Nathaniel Flint) | Alameda Slim | Rico | Mr. Wesley | DOR-15 | Mike Yagoobian | Dr. Calico | Dr. Facilier | Lawrence | Facilier's Shadow | Friends on the Other Side | Mother Gothel | Stabbington Brothers | Turbo | Cy-Bugs | Sour Bill | Wynnchel & Duncan | Bowser | Dr. Eggman | Zangief | M. Bison | Kano | Ghosts | Queen Elsa | Prince Hans | Duke of Weselton | Erik & Francis | Yokai | Alistair Krei | Mr. Yama | Dawn Bellwether | Doug Ramses | Woolter & Jesse | Ram Thug | Duke Weaselton | Te Kā | Tamatoa | Kakamora
Live-Action Movies
Joe and Jake Favers | Long John Silver | Captain Nemo | Pony Sugrue | Prince John (1952) | Jacques Lebeau | Makoos | Barnaby | James Haggin | Cattlemen | Apaches | Judge Higgins | Mountain Ox | Peter Thorndyke | Vince Heber | Mrs. Satterfield | A.J. Arno | Chillie Walsh | Colonel Pierson | Colonel Heller | King Leonidas | Bookman | Mr. Eben | Mark Pierson | Sam Eagle Speaker | Kerwood Krinkle | Frank Stillwell | Dr. Terminus | Gogans | Charles Olympus | Marshall Wooly Bill Hitchcock | Big Mac | Hans Reinhardt | The Watcher | Bluto | Vermithrax Pejorative | Master Control Program | Sark | Ed Dillinger Sr. | Mr. Dark | Mike | Rosie Little | Hunters | The Nome King | Princess Mombi | Connie | Buzz | Timber Wolf | Hunter | Eagle | Bleak | Graydon | Alistair Patton | Judge Doom | The Toon Patrol (Smarty, Greasy, Psycho, Wheezy & Stupid) | Walter Boyett | Mr. Patel | Abdullah | Nigel | John Merrick | Beauty Smith | Luke | Tinker | Sykes | Cherokee | Neville Sinclair | Lothar | Jack Reilly | Nigel Snyder | Joseph Pulitzer | Delancey Brothers | Charles Hendrickson | Winifred Sanderson | Mary Sanderson | Sarah Sanderson | John Ricketts | The King & the Duke | Pap Finn | Cardinal Richelieu | Comte de Rochefort | Milady de Winter | Borg Guillarson | Reverend Leland Drury | Mr. Heath | Miners | Lloyd Halverson | William Boone | Buldeo | John Wilkins | Tabaqui (1994) | Sergeant Harley | Shere Khan (1994) | Kaa (1994) | King Louie (1994) | Bandar Log (1994) | Juice (Blank Check) | Ranch Wilder | Injun Joe | Tony Perkis | Agent Woods | Jack and Ralph | Ashcan and Pete | Aunt Sponge & Aunt Spiker | Rhino | Skeleton Pirates | Shark | Cruella De Vil (1996) | Jasper & Horace Badun (1996) | Mr. Skinner | Jean-Pierre Le Pelt | Alonzo | Norman Snively | Ricky King | Charlotte | Lyle Van de Groot | Max & Thor | Lion | Beatrice Stanhope | Chester Hoenicker | Wilson Croft | Smith and Wesson | Bennett Hoenicker | Luanne LeSeur | Meredith Blake | Shere Khan (1998) | Tabaqui (1998) | Bandar Log (1998) | Eddie Taffet | Andrei Strasser | Elliot Coleye | Dr. Claw | Kramer | RoboGadget | Malcolm | Lana Thomas | Elliot T. Jindraike | Toy Santa | Louise Walker | Mr. Sir | Charles "Trout" Walker | Kissin' Kate Barlow | Linda Walker | Sheriff | Hector Barbossa | Crew of the Black Pearl (Bo'sun, Scratch, Pintel & Ragetti) | Ramsley | Zombies | Stacey Hinkhouse | Carla Santini | Lord Kelvin | General Fang | Inspector Fix | Black Scorpions | Viscount Mabrey | Ian Howe | Captain Bill Fawcett | Royal Pain | Stitches | Lash | Jadis the White Witch | Jadis' Secret Police (Maugrim & Vardan) | Ginarrbrik | General Otmin | Dr. Kozak | Jack Frost | Davy Jones | Crew of the Flying Dutchman (Maccus & Kraken) | Lord Cutler Beckett | East India Trading Company | Janice Avery | Gary Fulcher | Queen Narissa | Mitch Wilkinson | Simon Bar Sinister | El Diablo | Henry Burke | Miraz | Telmarines (Glozelle & Lord Sopespian) | Nikabrik | Hag & Werewolf | Kendall Duncan | Tess Tyler | Speckles | Lucinda | Oswald Granger | Red Queen | Knave of Hearts | Card Soldiers | Jabberwock | Jubjub Bird | Hamish Ascot | Morgana le Fay | Morganians (Maxim Horvath, Abigail Williams, Sun Lok, Drake Stone & Marrok) | Nizam | Ms. Stout | CLU 2 | Rinzler | Blackbeard | Angelica Teach | The Spaniard | King Ferdinand VI | King George ll | Sab Than | Matai Shang | Tal Hajus | Jenny | Latham Cole | Butch Cavendish | Jay Fuller | Evanora | Theodora | Maleficent (2014) | Diaval | King Stefan (2014) | King Henry | The Witch | The Wolf | Lady Tremaine (2015) | Grand Duke (2015) | Anastasia Tremaine (2015) | Drizella Tremaine (2015) | Lucifer (2015) | David Nix | Shere Khan (2016) | King Louie (2016) | Kaa (2016) | Bandar Log (2016) | Fleshlumpeater | Giants (Bloodbottler & Bonecruncher) | Pramod Kadam | Beast (2017) | Gaston LeGume (2017) | LeFou (2017) | Monsieur D'Arque (2017) | Tom, Dick & Stanley (2017) | Wolves (2017) | The King (2017) | Armando Salazar | Crew of the Silent Mary (Lesaro) | Scarfield | It | Giles Winslow Jr.
Other Animated Movies
Br'er Fox & Br'er Bear | Elmo St. Peters | Giant Magnet | Evil Clown | Merlock | Dijon | Guy Graham | Phillium Benedict | Kojak | Fenwick | Ivan Krank | Von Talon | Cufflingk & Underlingk | Kazar | Vidia | Mr. Whiskers | Were-Rat | Shelley | Nassor | Toshiaki | Mr. Burgermeister | Zarina | Bog King | Roland
Sequels
Abis Mal | Sa'Luk | Forty Thieves | Maestro Forte | Fife | Jesters | Zira | Outsiders (Nuka & Vitani) | Mack McCro | Supreme Commander | Morgana | Undertow | Cloak & Dagger | Bradley Uppercrust III | The Gammas | Buster | Reggie | Sarousch | Pom-Pom | Jacques von Hämsterviel | Reuben | Sparky | Leroy | Erik Hellstrom | Lil' Lightning | Lord Qin | Bandits | Mama Gunda | Marina Del Rey
Shorts, TV Shows, Comics and Video Games
Peg Leg Pete | Phantom Blot | Mad Doctor | Gustav | Lonesome Ghosts | Doctor Vulter | Solego the Chaos God | Arpine Lusène | Eli Squinch | Sylvester Shyster | Fantomius | Inquinator | Spectrus | Zafire | H. U. Hennessy | Witch | Zeke Midas Wolf | Captain Katt | Mortimer Mouse | Beagle Boys | Ajax | Witch Hazel | Adolf Hitler | Nazi School Teacher | Little Hans | Fat Cat | Norton Nimnul | Aldrin Klordane | Baby Thaddeus | Stan & Heff | Wooster | Julius | Frankenollie | Hecate | Typhon | Gaia | Mizrabel | Dr. Slicer | Gilda | Al Roker | Chuckles | Princess Irmaplotz | Sharky & Bones | Red Jessica | Beatrice Le Beak | ShiverJack | Grace Goodwin | Shadow Blot | Cedric | Miss Nettle | Sofia the Worst | Mamanu | Princess Ivy | Wendell Fidget | Muck, Gunk & Grime | Crispy | Twitch | Captain Hook | Shuriki | Fiero | Troyo | Varian
Disney Parks
Alien | Auctioneer | Bartholomew Gore | Black Prince | The Bride | Constance Hatchaway | Daisy de la Cruz | Executioner | Hatbox Blast-Ups | Hatbox Ghost | Hitchhiking Ghosts | Knight of the Living Dead | Lava Monster | Madame Leota | Master Gracey | Medusa | Monkey King Statue | Nebula Ghosts | Phantom | Pirates | S.I.R. | Werecat Lady | Yeti (Expedition Everest) | Yeti (Matterhorn Bobsleds)